Book Your Holiday Event in the Private King & Bay Lounge
GIVE YOUR GUESTS THE GIFT OF AN EXTRAORDINARY EXPERIENCE.
Our stunning private lounge on the 25th floor of Brookfield Place in downtown Toronto offers a perfect location for private Holiday events from 10- 100 people.
---
It's a New Look for Holiday Events
Our reputation for extraordinary custom menswear is built on our attention to the smallest of details... and it's the same level of detail that will make your private event at the King & Bay lounge the highlight of the Holiday season for your guests.
From the private event invitation, to the welcome as guests enter through our magnificent reception area, to the way we integrate your brand and the personal gift for each of your guests – we've got you covered.

The King & Bay lounge in the heart of downtown Toronto offers a 'wow' factor unlike any other venue. From the extraordinary views from the 25th floor of Brookfield Place and extending to the stunning interior design, there's nothing quite like it anywhere else.
We'll guarantee your private event will impress this Holiday season.
Present your guests with an experience they'll talk about.

Give Your Guests The Gift of Style
Stunning options for both the men and women in your group.
The men will enjoy the exclusive King & Bay custom garment experience, with the gift of a custom shirt, shoe, sports jacket or smoking jacket designed to fit their personal style profile. The women will enjoy the creativity of designing a custom bag* – such as a satchel, a tote, a duffel or a travel bag.
*At the Corporate & Premium event levels only.
---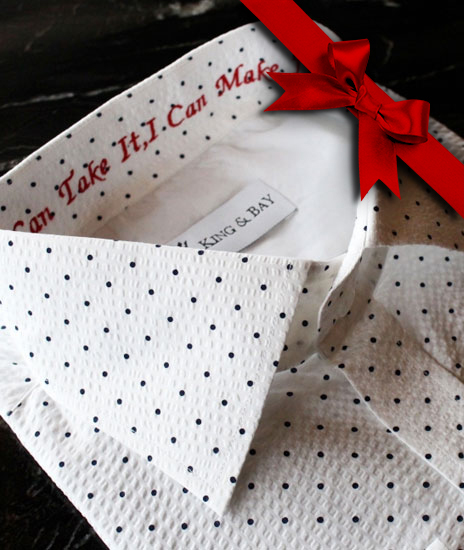 For the men
for the women
What Does Your Holiday Event Look Like?
Elegant. Exclusive. Extraordinary.
---
Your corporate guests will definitely be impressed. From the walk through our stunning foyer, to the gift of style for each guest, to the included corporate branding elements, we guarantee that your Holiday event will be the source of great stories.
Private Event Possibilities
Every private event at King & Bay comes with the attention to detail we are renowned for. We'll work with you to create the unique experience you're looking for. Here are a few ideas: 
PRIVATE ONLINE INVITATION PAGE
This is an offering unique to King & Bay for our private event customers. We'll design a custom online invitation page for your event to send to your guests.  VIEW EXAMPLE ›
DIGITAL GRAPHICS & CORPORATE BRANDING ELEMENTS
Included with every event is your corporate logo on our digital screens, menus and directional signage. We can also work with you to integrate other branded elements of your choice.  VIEW EXAMPLES ›
CUSTOM CATERING & BEVERAGES
Included with every event is an open bar with our signature cocktail, accompanied by a scrumptious hors d'oeuvres menu. However, working with our signature caterers, we also offer expanded options for custom catering and curated cocktails.  VIEW IDEAS › 
GIFT FOR EACH GUEST
Each guest will receive a custom gift of style – both men and women.
PHOTOGRAPHY & VIDEO
Our in-house digital team will assemble a curated selection of photos, along with a short video of your event that you can share with guests through a dedicated profile on our website. VIEW EXAMPLE › 
OTHER POSSIBILITIES
From a private whiskey tasting to live music to other fine touches, we'll work with you to bring your brand to life and give your guests the ultimate Holiday event experience.
Come Explore With Us
We invite you to join us in the King & Bay lounge for an upcoming Open House Tuesday Event in our lounge to learn more.
We promise it will be interesting. 
Let's Get Started
Please use the form on this page to prepare us with a few of your event details – and our Concierge Team will be in touch.