Your Luxury Event Experience Awaits

Your Luxury Event Experience Awaits
Extraordinary event experiences start here.
Unparalleled Luxury Events
Welcome to the world of King & Bay in Toronto, where the art of custom clothing seamlessly merges with exceptional events. We don't just create events; we craft experiences that resonate and our team is dedicated to making your gatherings, celebrations, and networking events exceptional.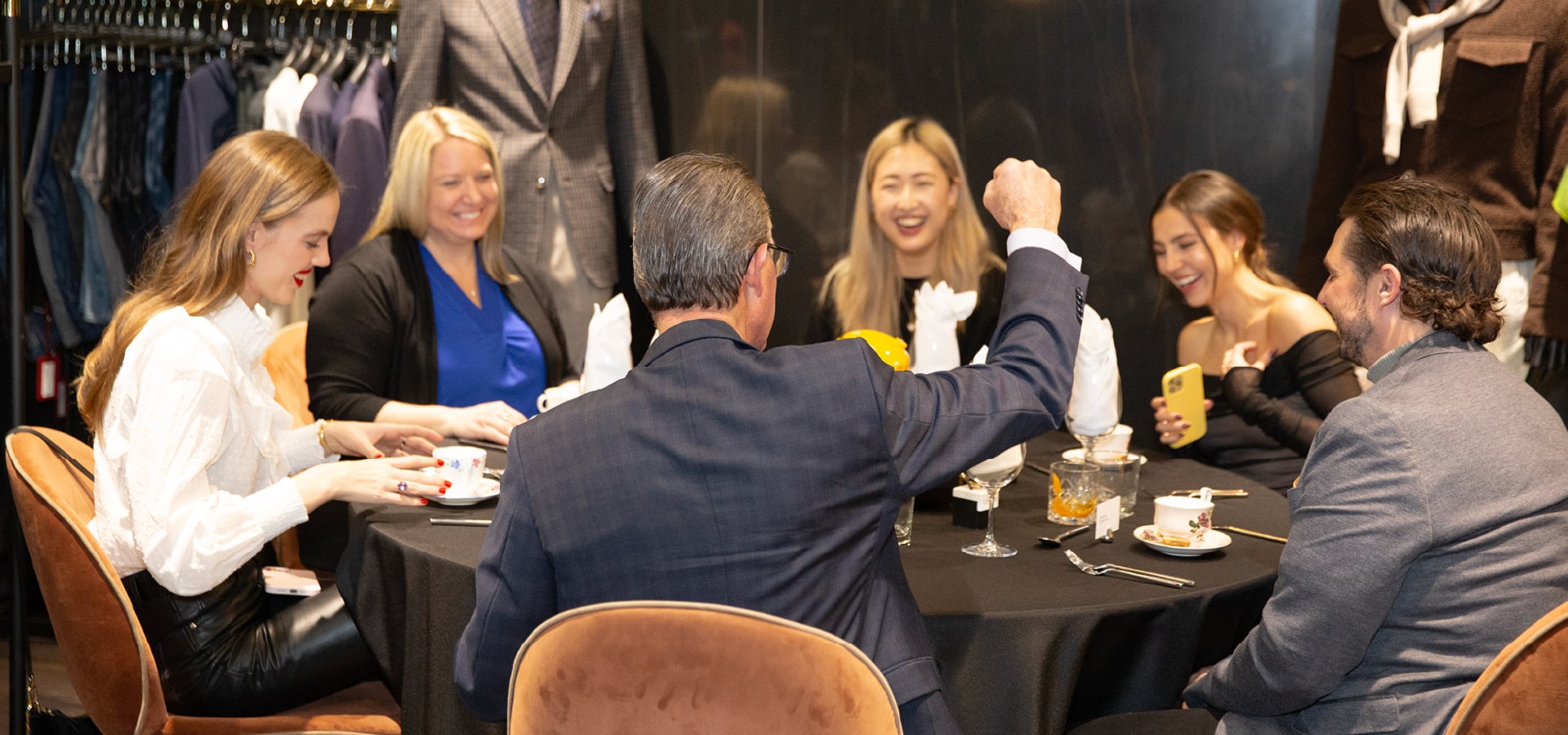 Luxury Event Experiences
We believe that corporate gatherings, celebrations, and networking opportunities are more than mere occasions – they are opportunities to make lasting impressions, foster connections, create unforgettable memories, and help businesses grow.
Why Choose King & Bay for Your Corporate Events
Tailored Experiences: We take the time to truly understand your company culture, objectives, and preferences. This allows us to create a customized event that perfectly aligns with your brand and resonates with your guests.
Luxury Space: Our Lounge features an expansive view of Toronto that serves as a picturesque setting, creating a captivating ambiance that enhances the overall event experience. 
Attention to Detail: From décor to catering, our meticulous attention to detail ensures that every element of your event is executed flawlessly.
Seamless Execution: You can trust our team to handle all aspects of event logistics. We will manage everything, allowing you to focus on engaging with your guests and enjoying the event.
Exquisite Culinary Offerings: Our culinary artisans craft menus that cater to diverse tastes and dietary requirements. 
Artfully Crafted Cocktails: Our expert mixologists curate an array of cocktails that complement the ambiance and elevate the event's sophistication.
Custom Clothing Experience: To further enhance your event, King & Bay Events offers an exclusive opportunity for your team members to indulge in a Custom Clothing Experience. This unique experience allows your guests to feel appreciated in a truly individualized way and helps them remember the event long after it's over.
Track Record: With a portfolio of successful corporate events, we have a proven track record of delivering exceptional experiences. Our satisfied clients speak to our commitment to excellence.
Event Experiences That Resonate
We redefine the concept of events. Our approach goes beyond the ordinary, crafting experiences that resonate, inspire, and leave a lasting impact. With an unwavering commitment to excellence, we have mastered the art of curating elevated events that blend the worlds of custom clothing and sophisticated gatherings.
Discover Our Elevated Events
The heart of our approach lies in the belief that an event is an opportunity to create a memory. Whether it's a corporate gathering, a celebratory occasion, or a networking event, King & Bay events are designed to be more than just a moment in time – they are moments that resonate and endure.
Trust King & Bay to design an experience that elevates your brand, connects your guests, and ensures that every detail, no matter how small, contributes to an unforgettable journey. With King & Bay, your events will transcend the ordinary and become extraordinary memories that linger long after the occasion ends.