Unique corporate meetings and small group events – with both virtual and in-lounge options.
Extraordinary event experiences start here.
Curated. Techonologically Savy. Very cool.
Everything we do at King & Bay is about our clients' experience.
Whether you're ready for a small group, in person meeting, are continuing to meet virtually or a bit of both, we invite you to talk to us. With unique gifting options for your guests, your sales or staff meetings will stand-out and make a lasting impression.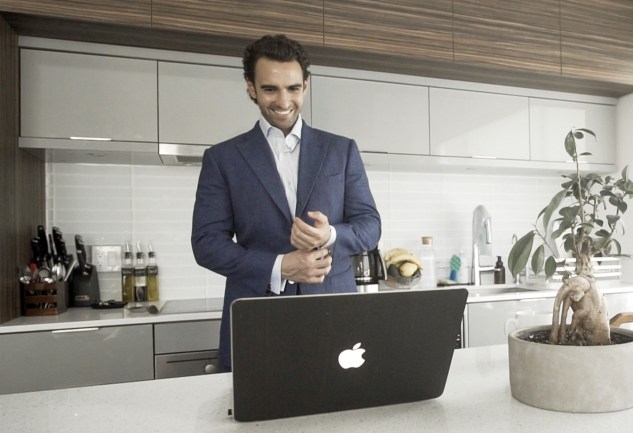 Put a little reality into your virtual meetings – with a curated experience that offers multiple touchpoints and creates meaningful memories for your guests. 
Discover the possibilities of our premium, private lounge, with the amenities you'd expect in an exclusive, elegant, curated private meeting or event.
If you are looking for a safe environment to host client or staff events, consider the elegant lounge and meeting rooms at King & Bay.
PRIVATE   Our lounge is available by appointment only – and entry is controlled at all times. 
SAFE   We have safety protocols in place with the goal of maximizing sanitization and minimizing risk to you and your guests.
FLEXIBLE  Whether you are looking to hold an intimate meeting in an elegant boardroom, or a larger event with on screen entertainment, we can accommodate.
CURATED  Catered hors d'oeuvres or meals – breakfast, lunch or dinner. Curated cocktails. Entertainment. You get all the quality King & Bay has to offer.
Prefer a virtual meeting with a sophisticated touch of reality? We can do that, too.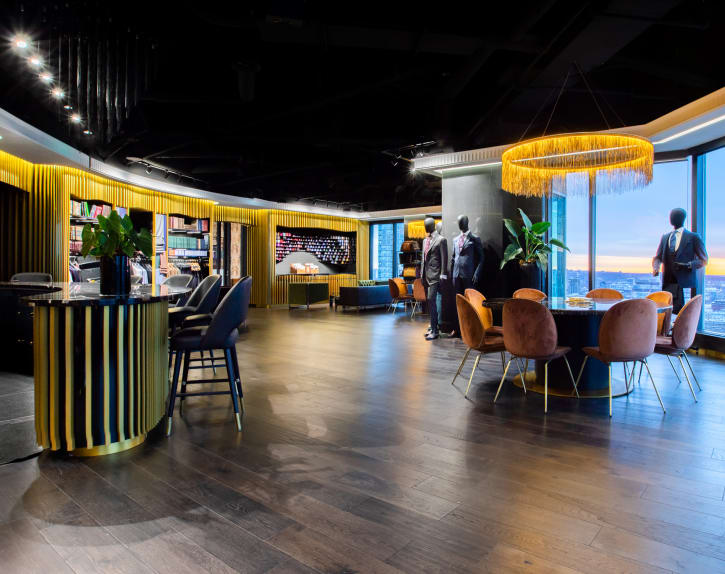 Explore the options for safe, small group meetings in our lounge. 
Our Master Clothiers Welcome You Back
The entire King & Bay team is here for you as you begin the transition back to business.
We believe that King & Bay offers an ideal solution for Toronto businesses who are ready to begin hosting small, intimate meetings and events. Our private space offers a range of benefits exclusive to our clients.
Talk to Us
We look forward to hearing from you
Interested in one or more of the options from King & Bay to help you get back to work? Fabulous. Complete the form below and we'll be in touch. Prefer to call?
Other Details
Click on a link below for answers to the most frequently asked questions we hear. Please also feel free to contact us if you don't find the information you're looking for.
What types of events work best at King & Bay as we phase back in?
The King & Bay lounge offers an opportunity for luxury, bespoke events for groups up to 10 people:
Corporate Meetings (For Clients or Employees)
Sales Recognition / Awards
Groom's Events or Wedding Parties
Sports Celebrity Events
Personal Events Celebrating Birthdays or Retirements
In addition to the benefits of being located in a AAA building, King & Bay has expanded its already strong commitment to sanitation to mitigate COVID-19 risk for our clients.
What makes your lounge so coveted for private business events
In Toronto, essentially there are traditionally two options for private business entertaining – restaurants / bars, or boxes at sporting events – both of which are either not available or limited at this time.
We offer a third option, in which your guests are invited into a truly unique, one-of-a-kind setting – a 'corner office' on the 25th floor in the heart of Toronto's financial district, with inspiring interiors and floor to ceiling windows offering stunning views over Toronto Island and downtown.
There is nothing quite like it in Toronto... or Montreal or Calgary or Vancouver, for that matter.
Our guest group is a mix of both men and women – how does this work with King & Bay being a mens clothier?
King & Bay offers a gender neutral event space when it comes to impressing your group with an exquisite food and beverage experience in an unparalleled physical environment.
And, although our core business is custom menswear, we also offer options for the women in your group – stunning Italian silk scarves and custom designer leather bags from one of the finest manufacturers in Europe.
How does your pricing work?
As we phase back into business, we have base fees for each of the meeting options described above. Additionally, you can choose to expand your event to include custom gifting or other addons. Please inquire for more details.
What is the capacity of the King & Bay lounge?
Although our Main Lounge & Bar can accommodate up to 60 guests, we are currently limiting events to maximum of 10 guests. 
What are the gifting options, and can you accommodate both men and women?
King & Bay offers custom gifting options for both men and women. Pricing is available upon request.
Custom Gifts For the Men
Shirt
Shoe or Document Case
Sports Jacket
Sports Jacket

WITH CUSTOM LINING

Briefcase or Doctors Bag
Suit
Suit

WITH CUSTOM LINING

Travel Bag or Weekender Duffel
Premium Suit
Premium Suit

WITH CUSTOM LINING

Full Wardrobe
Custom Gifts For the Women
Italian Silk Scarf

Document Case or Tote Bag
Briefcase or Doctors Bag
Travel Bag or Weekender Duffel
What can I expect in terms of quality of catering and bar services?
Expect bespoke catering available from award winning culinary stars, with premium bar service – all customized for your event.
What is access like – parking, transit, valet options?
PARKING: Street parking is available on Front Street and underground parking is accessible beside the Hockey Hall of Fame on Front Street East.
TRANSIT: The King & Bay Lounge is located directly across from Toronto's Union Station at 161 Bay Street, suite 2515. Patrons are able to access the building via the entrance on Front Street, Bay Street and through the underground PATH.
VALET: Valet services – including discreet, private entry – is available. Please inquire.
What options are there to truly customize the event experience?
King & Bay will work with you to customize your event with exclusive, interactive experiences. Options include:
Bespoke Whiskey Tasting Experience
Explore the world of whiskey, with a customized tasting that will impress both aficionados and those new to the whiskey world.
Alumni Athlete Experience
Offer your guests a truly unique, intimate experience watching the game with one or more alumni athletes – including your favourite Maple Leafs, Raptors or Blue Jays Players.
Game Night or Fight Night
The King & Bay lounge offers a stunning alternative to a sports box for a professional game. Guests are thrilled to watch the game on a big screen with a spectacular view of Toronto, along with all the other premium amenities of the King & Bay private event experience.
Other Event Customization Options
We invite you to bring your vision for integrating your brand through other customized event details. The possibilities are truly endless.
How much notification do you need to book an event?
We can accommodate groups up to 6 people, with minimal notice (1-2 days). For larger groups, timing is based on lounge availability as we proactively manage our safety protocols.
What are the options for corporate branding?
In addition to multiple options for floor banners and signage, each area of the King & Bay lounge offers the ability for digital branding.
On the main wall over the bar, you have access to four 47" high definition screens which can operate independently, or as one screen.
Additionally, there is a single 47" high definition screen on the larger wall in each of our three private rooms – the Boardroom, the Office, and the Den.
We are also more than happy to collaborate other branding touch points, such as bar / food napkins, match boxes, coasters, etc.
The possibilities are endless.
Can you arrange for photography and videography?
Absolutely. Our hand-picked, and very trusted providers, can work with you to deliver the visuals that best meet your goals, including post-event still and video editing.