While a suit is defined as a garment consisting of a jacket and trouser in the same fabric, a Sport Jacket differs as it is a jacket made with the sole purpose of being worn with multiple pairs of trousers. This versatility makes a Sport Jacket a wonderful addition to your wardrobe.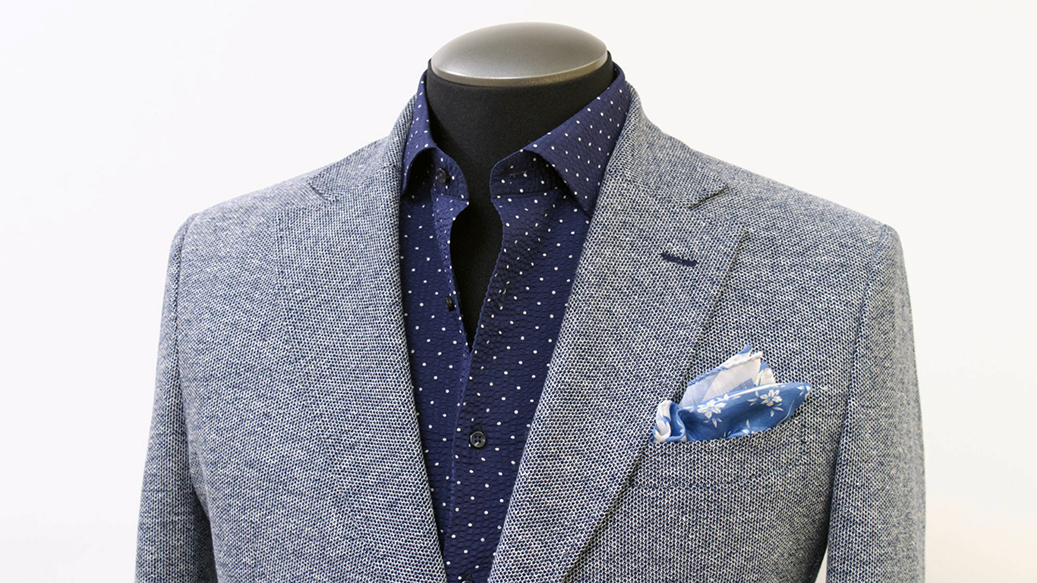 A lot of men who wear suits for work every day find it tough to dress 'smart casual'.
We've heard countless numbers of clients tell us that they look extremely different when not in the office. They go from wearing a suit to wearing t-shirts and jeans with no in between.
This is why we always ask them to try wearing a Sport Jacket.
Usually, Sport Jackets have bolder patterns or a more raised texture than a business suit. This adds versatility, being able to dress it up or down depending on the trousers paired with it. Here's how to determine the right jacket for you and where to wear it.
(Note: For the visuals in this article, we focused one a single colour family to show the versatility in the patterns and textures.)
1. The Solid Navy Sport Jacket  VIEW GALLERY »
The first Sport Jacket we recommend is a deep navy. The beauty of this jacket is its versatility. Usually it differs from the jacket of a navy suit due to subtle raised texture differences in the fabric.
Many sartorial men will have multiple versions of a navy jacket, one used as an alternative to a suit yet appropriate for a Friday outfit at the office, and another that is crafted with casual details to wear on the weekend.
The more formal version should still defer slightly from a navy suit jacket but still have the necessary texture to be paired with separate trousers. The casual version should be able to be paired with jeans, cotton chinos, layered with sweaters on the weekend and much more.
Traditionally, the more casual navy jacket is crafted with a quarter lined construction and patch pockets in order to dress it down.
A navy Sport Jacket is incredibly versatile as it can be paired with a numerous amount of trousers including grey, lighter blue, white (for summer), khaki, olive, burgundy and dark denim to name a few.
With a navy Sport Jacket in your wardrobe, you are taking your first steps into a dressy yet smart casual look. 
The next Sport Jacket after your basic navy should be a check pattern. Whether subtle or a bit bolder, a check pattern adds a more complex factor to your combination.
Many men find their sweet spot of smart casual here with check jackets due to the variety of different colour combinations and patterns to choose from. If you decide on wearing a larger check, we would suggest balancing your look out with a solid or finer patterned shirt or tie along with solid trousers.
We encourage men to try different sizes of checks depending on their comfort zones and slowly push the envelope forward. As your arsenal of jackets begins to grow and you begin to become more comfortable, you will naturally start wanting to try more bolder checks.
One of the best features of wearing Sport Jackets is the ability to dress seasonally. While a work suit is usually made from an all season cloth, a Sport Jacket is easier to craft with seasonal fabrics.
For this season of spring we are in, a linen or lightweight wool/silk blend jacket serves as a great way to add a stylish flare to staying cool in the heat. In the winter, tweed, flannel and cashmeres are great options to wear to keep yourself warm and still look great. Seasonal fabrics are where the fun begins as you can play with multiple different weights and blends of fabrics along with combining them with other trouser fabrics.
For example, try pairing a linen Sport Jacket with some lightweight cotton chinos this season. While mixing different patterns are great, you can truly express your style and creativity when pairing different seasonal fabrics together.
If you are the type to wear suits 5 times a week and have a healthy rotation of suits in your wardrobe, we would recommend that you start working on your casual wardrobe and start opting for a more well put together look on the weekends just as much as your weekdays. What better way to do that than opting to try out a Sport Jacket
---
« MORE STYLE FUNDAMENTALS |  TALK TO A MASTER CLOTHIER »
---