In the clothing industry, fall is a transitional period – the time to start selecting and ordering your fall garments. Here are a few tips to consider when you are looking at seasonal fabrics.

[FALL FABRIC TIP 1]
Choosing the Weight of a Fall Fabric
The first aspect to think about when choosing a fall fabric is the weight of the cloth. Fall is a season of unpredictable weather conditions. One day it may be warm and sunny, while the next may be cold and cloudy.
You want a suit or jacket that will keep you well prepared to brave the weather no matter what the condition. The way to do this is by opting for either a milled finish fabric or a heavy weight cloth.
Heavy weight materials are thicker while a milled finish fabric raises the texture of a regular weight cloth without adding more weight. These 2 options give you 2 different benefits. The heavy weight will keep you warm, especially as winter approaches while the milled finish fabric gives a feeling of warmth without sacrificing the feeling of wearing a winter suit.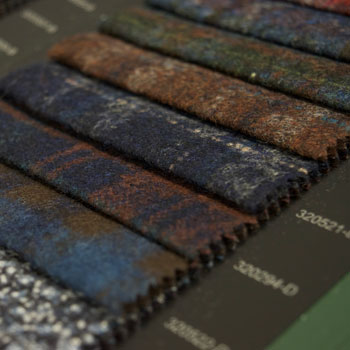 ---
[FALL FABRIC TIP 2]
Designing a Garment with Fabric that is Functional & Stylish
Every man should treat his wardrobe as an investment. This means that every purchase you make should be considered as a contribution to an overall picture.
While every man should have at least 5 basic all season suits in their wardrobe, a fall suit is a garment purchased for the sole purpose of being used for the season. This means that you will have 6 to 8 months per year to wear this suit. Like any suit in your wardrobe, maximize the use of the garment by pairing seasonally appropriate shirts and ties and determine good pair of shoes to coordinate with. This allows you to wear the suit for as many days as you can during the fall without making your garment seem stale to the eye.
One of the best additional advantages of a fall weight suit is its ability to also be worn casually. By investing in seasonal knits like a V-neck sweater and turtle necks, you can layer and pair these with your suit for a smart, sophisticated casual look.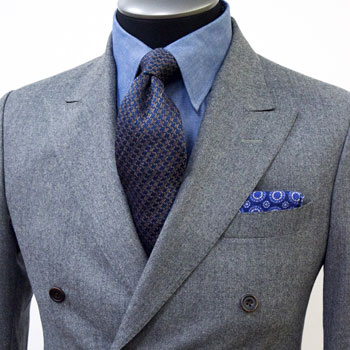 ---
[FALL FABRIC TIP 3]
Getting the Colour Right
Fall is a great time to start branching out into subtle colours. While many men feel intimidated to wear colour in the summer, fall is the season where you should be more open as the colour schemes aren't as bold.
Deeper, darker hues are a great option to consider when shopping for a custom fall suit. Subtle solid fall coloured suits like chocolate brown, taupe, olive green, deep burgundy and amber orange are fantastic starting points.
Once you've established a handful of solid coloured fall suits into your wardrobe, branch out with beautiful textures and patterns.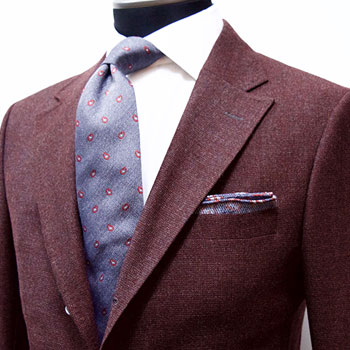 ---
« MORE SEASONAL STYLE KNOWLEDGE  |  GET STARTED WITH KING & BAY »
---