When it comes to work attire, many men find themselves trapped wearing the same two solid navy and solid grey suits. While these two suits are great staples, they shouldn't be the 'be all and end all' of your wardrobe.
In this post, we've narrowed down 5 key pattern examples for you to start exploring. To keep things simple, we've shown these examples in blue fabrics, however, there is nothing wrong with jumping out of a traditional blue and grey colour tone for your work suits. Many of these fabrics can be made in an array of dark alternative colours for work.
[Herringbone]
A Great First Step
A great first step to start implementing subtle patterns into your rotation is to opt for a herringbone suit. The reason we are showing a pattern this subtle first is the fact that this fabric is still seen as a solid from afar. However, the zig zag texture creates a unique depth to the garment when seen up close, making a seamless transition from solid to pattern. Many men feel intimidated by jumping straight into bolder patterns so this herringbone style is a great way to start. Once you are comfortable with this suit, it will be easier to embrace more prominent patterns like the next option.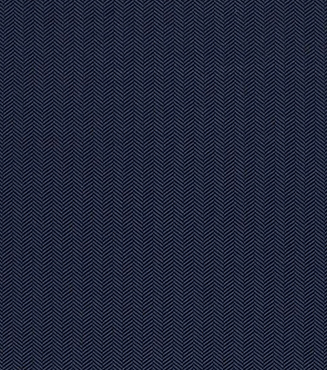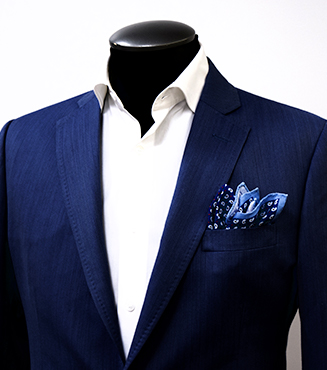 ---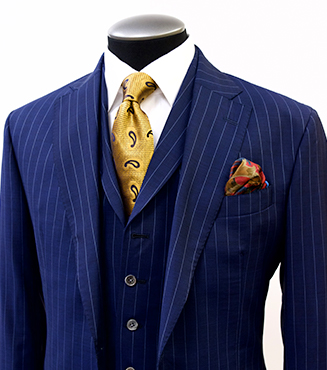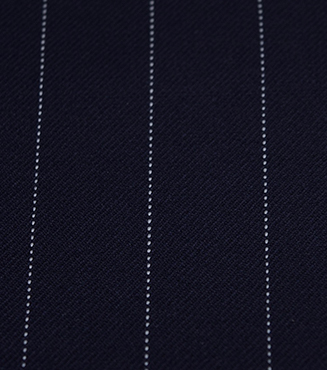 [Stripe]
Classic & Conservative
The next patterned fabric to consider is a stripe. This pattern is one of the most classic, conservative looks for the office and is sometimes seen as a ubiquitous business suit in corporate environments. The cloth shown is a deep navy base with a lighter grey stripe. Many fabric mills offer an array of different colour stripes, however the white stripe will always be seen as a classic. The sharp lines, along with the slimming silhouette of a well-fitted garment make any man in a striped suit look taller, leaner and more powerful. This is why we often show these suits as "power looks" for the office.
---
[Check]
A Fashion Forward Staple
One of the most popular types of patterns as of recent has been check fabrics. A check by definition describes any fabric with vertical and horizontal lines. Fashion-forward men have been embracing checks of all sizes and styles in different colours. However, for work, we would recommend you start with smaller scale check patterns, like this beautiful cerulean micro grid check suit, which is a great conservative look for work. It's a great garment to have in order to stand out while still keeping your look conservative.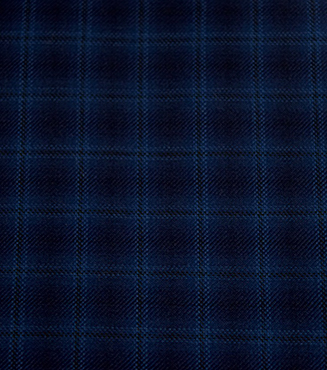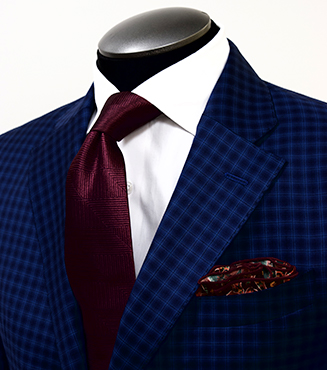 ---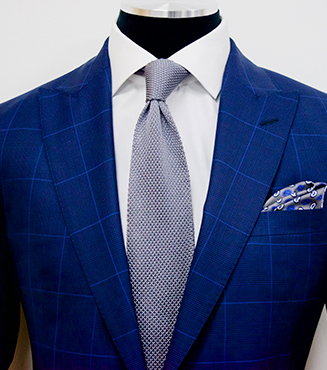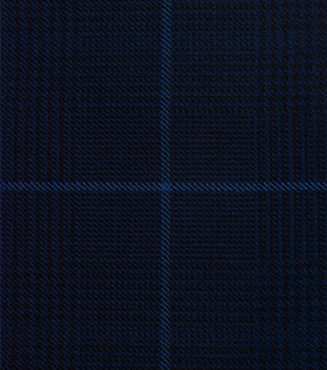 [Glen Check]
Bold & Dynamic
The next pattern we are showing is also a check, however, this style is the most recognized check pattern available in suiting: the glen check. While the previous pattern we showed was smaller in scale, this pattern is much larger and is more dynamic with both a base check in the cloth as well as a windowpane overlay in a brighter colour. This in turn makes the suit stand out much more.
---
[Windowpane]
A Versatile Look
The final pattern is called a windowpane. Its name comes from the window style check pattern formed by vertical and horizontal stripes. The windowpane has an element of simplicity meaning that you can pair many shirts and ties with it and make it look different every time. It is seen as a more fashion forward look depending on the size of the check, however there is nothing wrong with wearing this pattern to the office. The suit shown is a fantastic work look with its deep tone. The finer width of the lines provides an easier base to pair shirts and ties.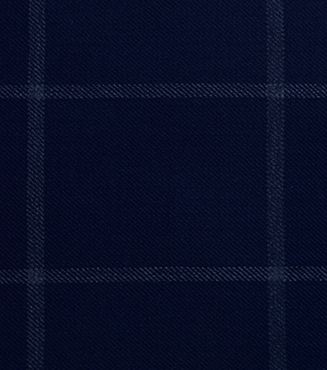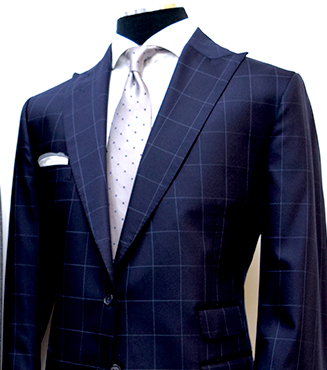 While solid suits are the foundation of your weekly work rotation, they shouldn't be the only suits in your wardrobe. By including these office-appropriate patterns into your rotation, you can have a fresh new look every day that stands out from your colleagues, while still complying with the office dress code.
Remember that the way you dress is a visual representation of who you are, especially at work, so put your best foot forward and start embracing patterns.
---
« MORE STYLE KNOWLEDGE  |  GET STARTED WITH KING & BAY »
---