A topic that is continuously talked about in men's clothing is the constant changing trends of tie widths. One minute, ultra skinny ties may be the the rage, and the next minute, wider ties are what garner fashion's attention.
The truth is that these 'trends' have nothing to do with what is stylish and what isn't. Fashion is an ongoing cycle of change. Trends that were out years ago return for a period of time, then are suddenly old news once again. For example, the skinny tie was a prevalent style statement in the 1960s along with slimmer fitting suits and slim lapels.
When the 1970s arrived, wider ties, larger lapels and more relaxed fitting suits were the trend. This is why we believe in everyone developing a timeless sense of personal style rather than following fashion's ups and downs. In this article, we've given a quick guide to how to determine the right tie width for you.
---
[Option One]
Coordinate with Your Lapel
When putting together a sartorial outfit, the key to a great look is to keep everything balanced, both visually (patterns, colours, etc.) and proportionately. Choosing your tie width, much like choosing the other aspects of your suit, should factor in its surroundings.
The easiest way to determine your tie width is to match it in proportion to the lapel of your suit. When your tie and lapel are balanced, it creates a visual harmony. Therefore, a wider tie should be paired with a wider lapel, and a slim tie with a slim lapel.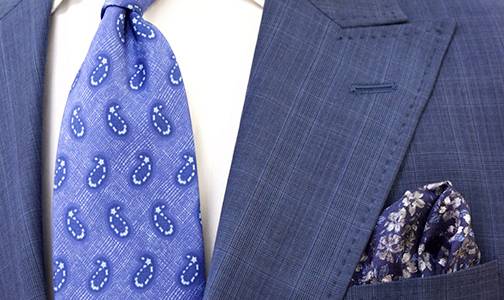 ---
---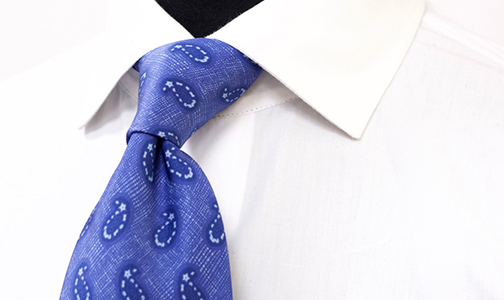 [Option Two]
Coordinate with Your Shirt Collar
When you see the measurement of a tie, it is recorded at the widest point. However, what many men don't realize is that the width of your tie can have an affect on the height and width of your shirt collar. A wider tie creates a larger knot which requires a larger collar with a higher band.
If you pair a wide tie with a small collar, the collar will not fold over properly and the points will not touch the shirt. Coordinating a balance between your shirt collar's size and the width of your tie will create a proper fit and look for your neck.
---
[Option Three]
Coordinate with Your Body Type
With any aspect of custom clothing, your body type has a major role in the proportions of your garments, and the same should be said about your tie width. We always advise to find a happy medium between ultra skinny and wide. However, here is a simple rule of thumb to take into consideration.
Slim Body Type: 2.75 - 3 inch
Athletic Body Type: 3 - 3.25 inch
Broad Body Type: 3.25 - 3.5 inch
Remember the key aspect to a well put together look is balance. This means every part of your look should be proportionate to your body type. The best way to take control over these factors is to invest in custom suits and shirts. In the custom process you can dictate the width of your suit lapel as well as your shirt's collar style and size
After reading these simple points regarding tie widths, it is evident that following fashion's trends won't guarantee that you will look put together. The key to looking well put together is to analyze your own personal body type and coordinate the proper proportions to your entire look. By doing this, you are solidifying your own unique personal style which is how others will identify you.
Remember that how you dress is a visual representation of who you are. When you coordinate your proportions properly, we guarantee that you will look and feel your best.
---
« MORE STYLE KNOWLEDGE  |  GET STARTED WITH KING & BAY »
---