With the sudden drop in temperature lately, many men are starting to feel the initial effects of the fall weather. This is the perfect reason to invest in a custom overcoat.
Overcoats are the outer layer of your attire and should keep you warm and comfortable for these colder months. In this article we've selected the 2 basic variations to showcase, as well as a handful of details so that you may have a better understanding of what to look for in overcoats before coming in to customize your own.
---
[Classic & Timeless]

Single Breasted Overcoat

The most classic and timeless look is the single breasted overcoat. Simple, sophisticated and elegant, many men opt for deep navy, charcoal grey or black coats for a neutral tone to match any style. Camel is another popular option for a rich, sophisticated look.

If you are investing in your first overcoat, we would recommend a notch lapel and slanted pockets for a clean and versatile garment. The coat shown has a thick notch lapel for an elevated level of sartorial style.
---
[Stylish Silhouette]

Double Breasted Overcoat

The double breasted overcoat is a stylish look with more fabric coverage that provides a closer fit and more warmth. The overlapping fabric creates a leaner silhouette while the 6x2 button style lends a more detailed aesthetic.

Some double breasted overcoats may have more buttons and a higher button stance for more warmth and protection. The coat shown features patch pockets for a more casual look, however, there are plenty of pocket variations and details to add to a double breasted coat.
---
Take a look below at 4 simple examples of the vast variety of options for unique and stylish overcoat customizations.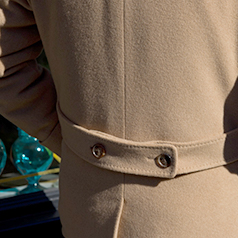 [Half Belt]
Creates waist suppression for a lean silhouette.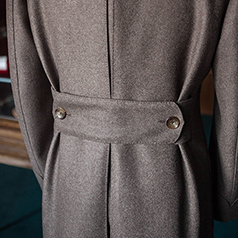 [Action Back]
Reverse pleated back seam for mobility and comfort.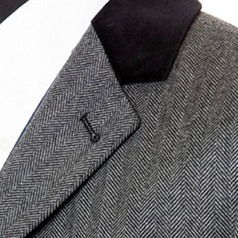 [Chesterfield Collar]
Contrasting collar for a formal look and warmth.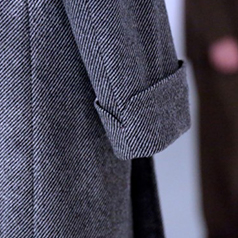 [Turn Up Cuff]
A folded cuff for extra weight prevents buckling.
---
These are just a few examples of the many customizations you can add to your coat for a personalized and practical garment. The truth is that all of these details have a practical benefit to them that will help you stay comfortable and warm this fall/winter.
Remember that your image is a visual representation of who you are without saying a single word. By investing in a proper overcoat, you will be comfortable, warm and well prepared for anything this season.
---
« MORE STYLE KNOWLEDGE  |  GET STARTED WITH KING & BAY »
---