Shirt collars have a large influence on the profile of your outfit, and can often make or break your look. Here are 6 collar types to keep in mind for various dress codes.
When it comes to dressing for work in a business environment, a detail many men tend to overlook is the collar style of their shirt. The shirt collar is the anchor for your tie, and if it cannot hold the tie properly, the result is a mismatched, unkempt look. Also, if you're not wearing a tie, your shirt collar needs to be prominent and not flimsy.
---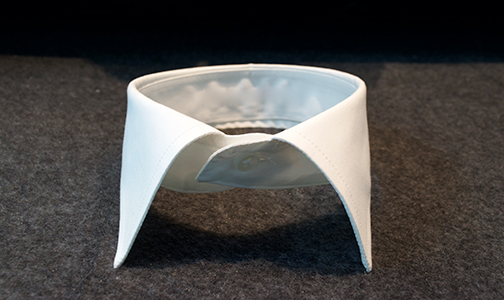 [Option One]
High Collar
The high collar is a dressy, stiff collar that can anchor a wider tie. The collar is longer and its band is higher. The result is a dressed-up, clean look for your suit while wearing a tie, and a sleek look when worn unbuttoned. This collar is recommended for men if they prefer not to wear a tie, as the collar won't bury into the jacket's lapel.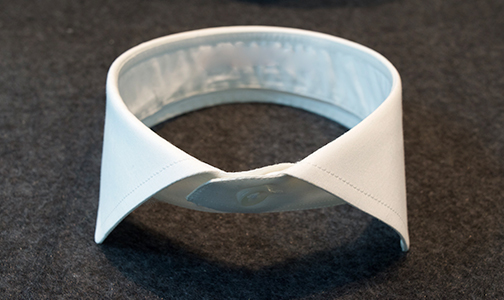 [Option Two]
Full Spread Collar
The full spread collar is a younger, more fashion-forward look. The reason is that the collar points at a much wider angle. This allows the knot of your tie to be seen more as the collar is folded farther away from the centre button.
---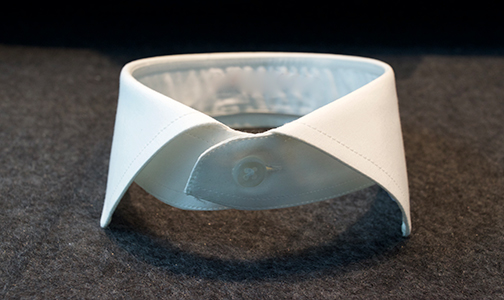 [Option Three]
British Cutaway
A timeless yet sophisticated collar, the British Cutaway is a happy medium between the full spread and high collar. It keeps a clean look without shooting too far back. We recommend this collar for formal shirts as it holds a bow tie very well. It is dressy with an element of style that many men search for. It is perfect for the office, rather than being too casual or fashion-forward.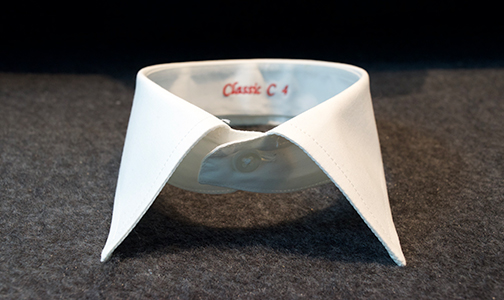 [Option Four]
Classic Collar
The classic collar is another timeless and sophisticated collar. It has a narrower distance between the two collar points than the British cutaway. When it is buttoned there is a smaller amount of space to anchor the tie, which means we would recommend a slimmer knot in order to keep a clean look. This is a great option for work, as you can never go wrong with a classic.
---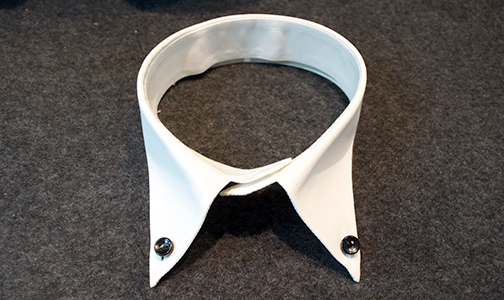 [Option Five]
Button Down Collar
The button down is a traditional gentlemen's collar often seen on American styled Oxford dress shirts. Usually the collar isn't as stiff, resulting in a more natural roll rather than fold. The original purpose of the buttons were to fasten the points to the shirt so that it could hold a tie. We often recommend this collar for a sport jacket and jeans look as the shirts often lend themselves to a more casual environment.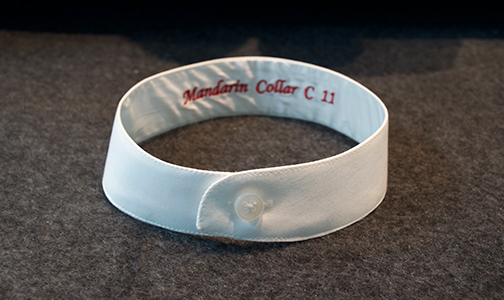 [Option Six]
Mandarin Collar
Often also called a 'band collar', the Mandarin collar is a collar without a fold. These collars are a more casual look for your shirt, as the lack of a fold is reminiscent of a henley-style shirt. Many men request this collar for summer shirts as it provides more space for your neck to breathe without the feeling of being too constricted. It is a modern, fashion-forward look to pair a mandarin collar with a suit.
Paying attention to what you wear is a great first step to dressing your best. However, the most effective way to communicate a sense of style is to pay attention to the details of a look and understand how they contribute to your overall profile. Shirt collars are one of the best examples of this as they have a lasting effect on your outfit.
Remember that your image is a visual representation of who you are without saying a word. When you pair the right collar with the right suit, sport jacket or casual look, you are already one step ahead of the rest of the men you see. That is the benefit of dressing your best.
---
« MORE STYLE KNOWLEDGE  |  GET STARTED WITH KING & BAY »
---