The key to a well put together outfit is to complete your profile with a pair of dress shoes. Here are a few essential styles of men's footwear, and the details that come with them.
You can tell a lot about a man by looking at his shoes. Many men fall into the trap of investing in only one or two pairs of shoes, owning one pair of black shoes, and one pair of brown shoes. While these are basic colours to have in your wardrobe, there are many options, styles, and details to consider when taking a look at footwear. The differentiating factor in footwear comes down to lacing closure as well as decorative details.
---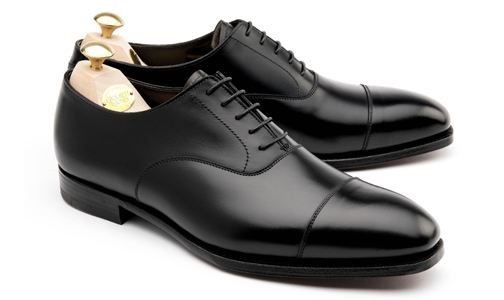 [Option One]
Oxford
The oxford is the one of the most formal dress shoe styles and should be seen as an essential in your collection. It features a cap toe style with stitching across the shoe above the toe. All oxfords feature closed lacing on the end, which is called a 'balmoral style' lacing. This shoe is most appropriate with suits and a formal sport jacket and trouser combination.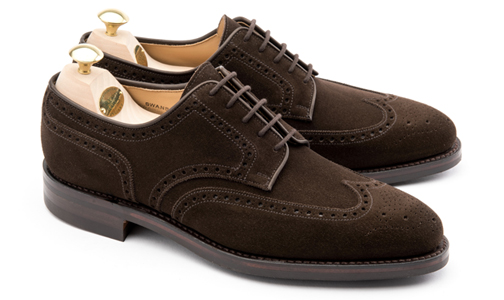 [Option Two]
Derby
A derby style shoe features open lacing, often called a 'blucher style'. This lace style is very practical and comfortable with men who have a high in-step as, the lacing can open as high and far as needed. A derby shoe can have similar detailing to a brogue shoe as well.
---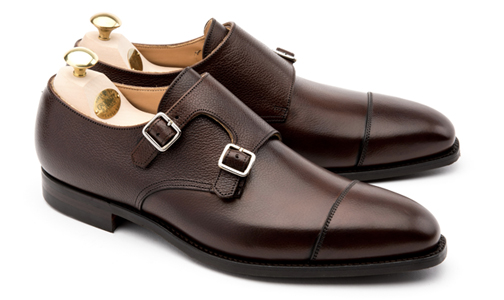 [Option Three]
Monk Strap
The monk strap is a dressy shoe that features buckles rather than lacing. You have the option for a one-buckle 'single monk', which is a traditional classic look; or the more common two-buckle design 'double monk', which is a clean look that has been popularized recently by Italian sartorialists and English gentlemen alike.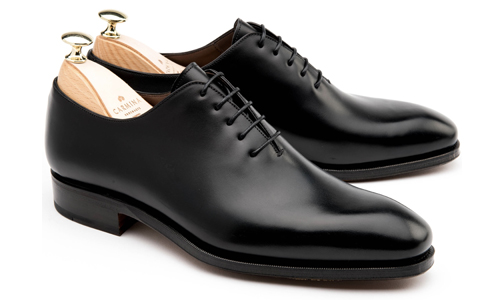 [Option Four]
Whole Cut
A whole cut shoe is made with one piece of leather wrapped around the sole and over the tongue of the shoe. This results in a lack of stitches, allowing for a more streamlined look with closed lacing. Due to its simplicity, these shoes are a dressy option to pair with formal suits. A whole cut falls under the oxford style, however, it is given its own name due to being one piece of leather.
---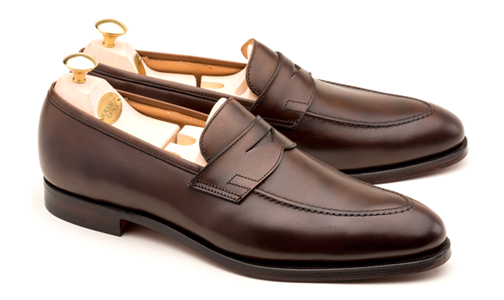 [Option Five]
Loafer
A loafer by definition is a slip on shoe without lace fastening, and is not usually worn with a suit. However, they are predominantly seen with sport jackets, trousers and jeans. The practicality of these shoes is the ease of slipping them on and off effortlessly.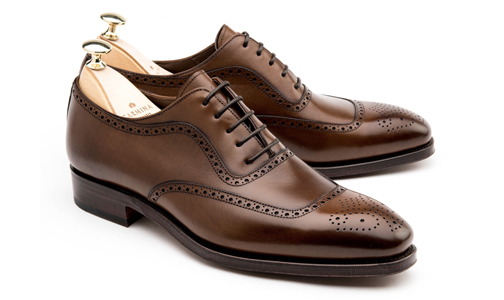 [Option Six]
Brogue
A brogue is a slightly less formal dress shoe. It differentiates itself due to its decorative perforation details around the seam. The addition of a medallion on the toe is another distinguishing detail. The advantage to a brogue is its versatility: you have the ability to pair it with a suit, sport jacket and trouser, or even with a pair of jeans.
Your footwear has a large impact on your appearance and should taken care of. With these 6 basic styles, you now have a better understanding of what is out there for you to pair with your work suits, sport jackets and jeans. Every man should aspire to own these 6 styles as a base in their footwear collection.
Remember that your image is a visual representation of your who you are so put your best foot (and your best shoe) forward and look your best.
---
« MORE STYLE KNOWLEDGE  |  GET STARTED WITH KING & BAY »
---