We are so very impressed by clients like Stephen 'Wonderboy' Thompson, who not only aspires to excellence in his public life, but walks the talk in as Head Kids Coach with his family's Martial Arts Centre in South Carolina.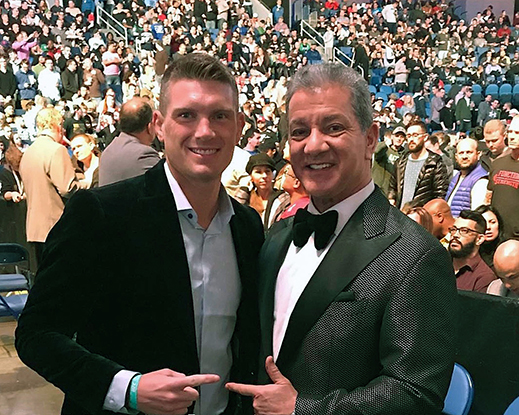 It was an interesting introduction – for which we are truly grateful!
We first met Stephen 'Wonderboy' Thompson at UFC 2016, where he had noticed the smoking jacket Bruce Buffer was wearing in the 'octagon' (which, for those who may be new to UFC, is the competition ring).
The first garments we made for Stephen were a velvet camo jacket and a very stylish 3 piece suit.
Stephen, of course, has a very athletic build and has a tough time with shopping off-the-rack. And so, our way of building custom clothing works perfectly for him.
But enough about the clothes.
We quickly learned that clothing is a minor detail in Stephen's life. It's his work that really counts.
As we got to know him better, we quickly learned that Stephen 'Wonderboy' Thompson is great and humble person. 
The son of Upstate Karate owner Ray Thompson – also a respected manager and martial arts coach – Stephen is a high achiever, with an impressive Kick Boxing competition record of 56-0. Basically a champion who is undefeated.
But, while he is on contract with the UFC as a UFC Welterweight Contender, Stephen is also the Head Kids Instructor at Upstate Karate in South Carolina, where he works wonders with kids.
Dedicated to helping others develop confidence and an indomitable spirit through self defense skills.
Ray Thompson's Upstate Karate Family Martial Arts Center, has been serving the Upstate for 35 years and is currently ranked in the top 10 Martial Arts Schools (in Canada, the US, Australia and Great Briton) by the United Martial Arts Association.
As Head Kids Coach, Stephen is part of a team that has a genuine, heartfelt interest in their student's progress and development. The inspiration for Stephen is seeing challenged young people transform into confident young adults and leaders.
You can see the passion Stephen has for his kids in the Instagram video below. 
---