It was the perfect fit for two software companies that offer collaborative, synergistic solutions to a shared target audience.
Synergistic. Shared. Sales Event.

With over 6,500+ integrations, there's a good chance Okta can connect anyone that touches any organization to any technology.
And, with a strategic partnership with Proofpoint, that offering expands to identity and email security helping protect against credential theft and phishing.

So, it made sense to bring prospects and clients together to talk about the benefits of the collaboration between the two companies.
LEVERAGING OPPORTUNITY FOR MAXIMUM BENEFITS. 
Gifts Given. Guests Impressed.
Okta + Proofpoint jointly selected the King & Bay lounge for this private event for prospects and clients shared by the two companies.
This is the second event hosted by Okta at the King & Bay lounge, and we welcomed the introduction to Proofpoint. 
Guests enjoyed delicious catering and beverages as they networked and learned about the synergistic solutions offered by the Okta and Proofpoint collaboration.
And, with each guest receiving a custom gift – a shirt for the men and a scarf for the women – the impression made by the host companies will be top-of-mind every time the garment is worn by guests.
As the screen says, it was the perfect fit.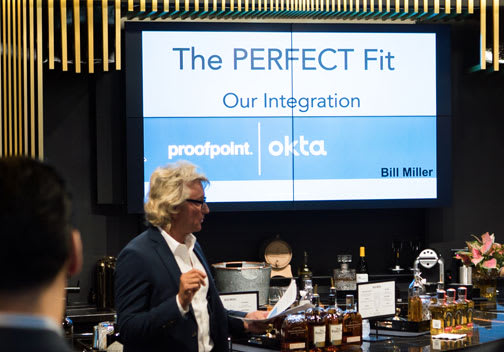 Event Gallery 
CLICK ON A THUMBNAIL TO VIEW LARGER IMAGES