The perfect fit and the utmost attention to the details... this is what we have in common with Kubes Navaratnam, Managing Director at Nava Wilson, LLP.
---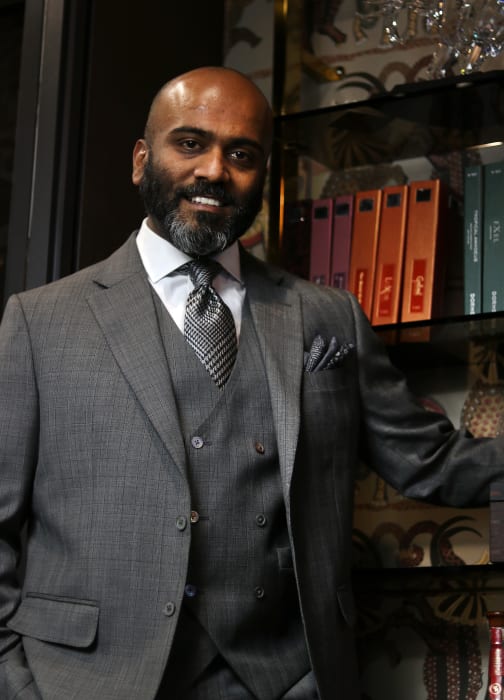 A Commitment to Quality & Service
As the Managing Partner at Nava Wilson LLP, Kubes Navaratnam leads negotiations on complex, multi-million dollar deals. He has negotiated with municipal and provincial councils on land development projects and has created models for re-structuring Canadian registered funds as investment vehicles for real estate.
    

We believe Nava Wilson is a firm to watch.
With downtown Toronto caliber lawyers and fees that are... well... not so downtown, Nava Wilson provides services in Real Estate, Corporate Law and Litigation.
The company is committed to increasing access to and awareness of the justice system through increasing their clients' and communities' knowledge of their legal rights and responsibilities.
Kubes is long-time friend of King & Bay, and over the years, we've watched him grow his law practice with elegance, compassion and a real commitment to community.
In his management role, Kubes wardrobe must reflect the gravitas of his business. Which is why he looks to King & Bay. 
Reserved design. Impeccable detail. It's the subtleties that speak to the quality of Kubes as an individual, and to the work that he delivers for his clients.
Personal style that inspires confidence.
Some people would say that designing conservative, timeless menswear might be somewhat 'boring'. For me, it's the opposite. When clients like Kubes come to King & Bay, I revel in the opportunity to create garments that are elegant, that stand the test of time, and that inspire a level of confidence in the man who wears them.