Puneet Duggal is a Solution Architect with CDW Canada and one of only eight Canadian engineers with the Cisco Certified Design Expert (CCDE) designation. We sat down with Duggal to learn more about his incredible achievements, and how he honours tradition and his success with a King & Bay custom jacket.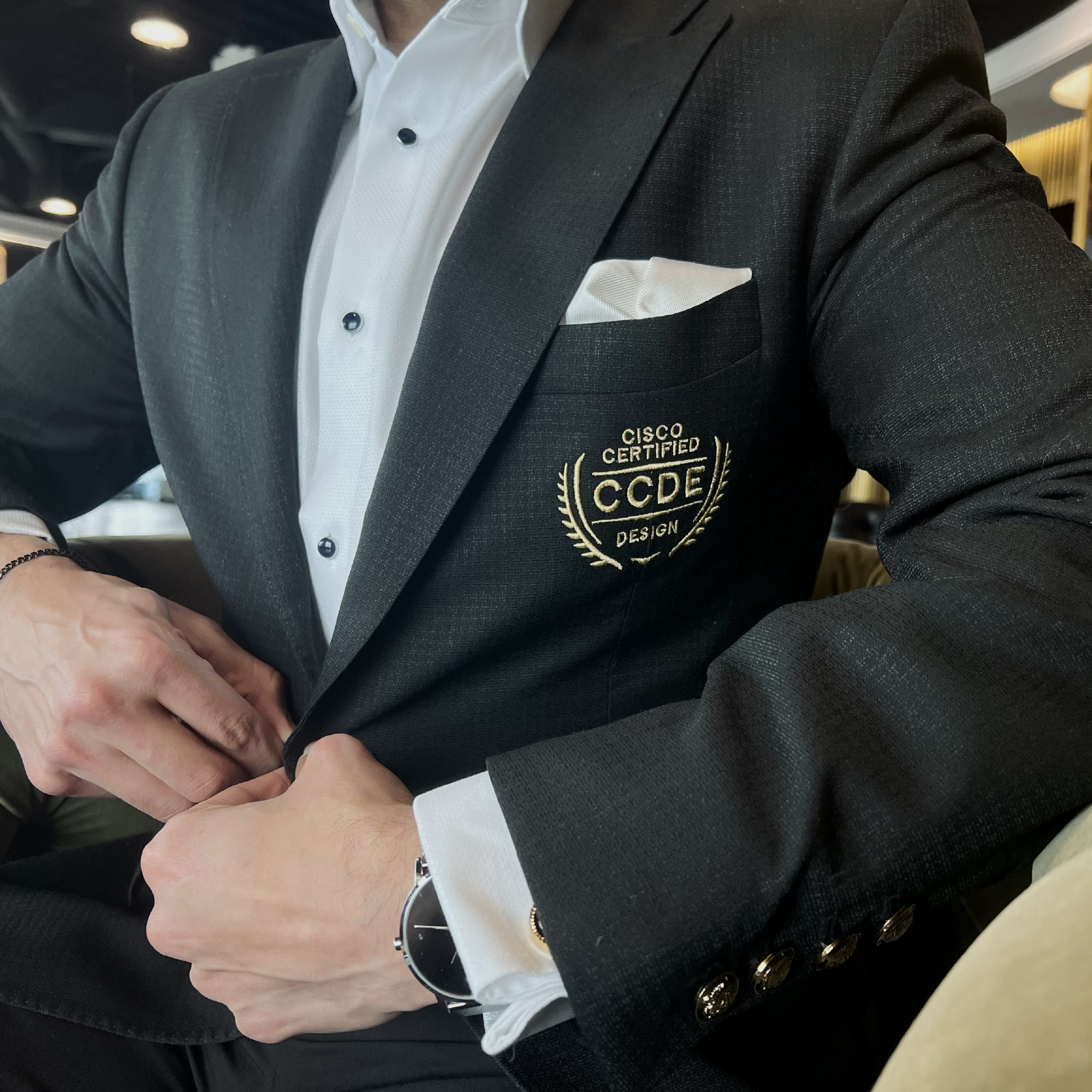 Previous

Page

1

of 2

Next
Honouring Success & Tradition: The Story Behind Puneet Duggal's Custom Jacket
Puneet Duggal has always had a passion for technology and a strong desire to understand how things work. Naturally curious, a young Duggal could be found taking apart electronics to see how they were wired. He even recalls a time he changed the network at home so his brother couldn't access the internet to play video games. Today, Duggal is a Solution Architect with CDW Canada, a global tech company that helps customers achieve their goals by delivering integrated technology solutions and services which include security, cloud, data centre, networking, and digital transformation.
Since technology is ever changing, learning and development are integral for success. In the 90's, Cisco, the number one networking company in the world, created a certification program as a way for engineers to prove their expertise. This program helped to identify an engineer's level and differentiate them among others in their profession. To date, Duggal has completed his 25th certification with Cisco, but has over 70 certifications overall. These achievements, his passion for technology, and his drive to succeed have led Duggal to obtain the Cisco Certified Design Expert (CCDE) designation which only 8 Canadian engineers have achieved.
What Top Gun & Technology Have in Common
The Cisco certification started at a time when the movie Top Gun was gaining popularity. The training was known as "Top Gun" training and the exam included design and implementation, allowing engineers to prove they were experts. Like planes engaging in aerial firefighting, these professionals must stay laser-focused to ensure optimal performance of the technology and prevent any security challenges. In honour of successfully passing the exam, this elite group of individuals received a black leather jacket, proudly displaying the Cisco Certified Internetworking Expert (CCIE) crest. 
A Twist to Tradition 
The tradition of receiving a leather jacket upon successful completion of the exam still stands and Duggal's team surprised him with his very own. Duggal also wanted to modernize the tradition to match his style and he asked King & Bay to create a custom jacket with the CCDE crest on the pocket. His hope is that other engineers with this prestigious credential might want to do the same, or get in touch with him to receive a lapel pin he had designed with the same crest.
Fashioning a Professional Image with Custom Clothing
When asked what appearance has to do with success, Duggal expressed that appearance is the first thing people notice. When he presents at conferences, the way Duggal is dressed makes a statement. He wears this custom jacket along with other King & Bay custom garments to important meetings, presentations, and speaking engagements. He noted that when people observe the CCDE crest on his jacket, it not only sparks conversation, allowing him to get to know others, but also signifies his level of expertise in the field.
Duggal appreciates the value and quality of custom clothing. One of the first things he did when he passed his CCDE exam was bring his father to King & Bay to purchase a custom jacket for him. Duggal expressed that his father taught him how to tie a tie and bought him his first suit; Duggal wanted to commemorate this special moment by returning the favour.
The Future is Bright
Duggal has no plans on slowing down his studies and has a long list of endeavours he hopes to accomplish. Included on his list is writing a book on how to create a smarter and safer city through large-scale technology. His goal is to eventually have a very digital Toronto. Duggal is currently studying to achieve a cloud expert certification and is even training to run a marathon in his spare time.
We're incredibly proud of Duggal's accomplishments and we celebrate his success alongside him. It was an honour to create this custom jacket to commemorate his distinguished achievement.