Quality Menswear With A Vision
We love design. We love style. And we are committed to quality, both in terms of the tangible products we create, and the intangible experience we offer clients.
Our Kingsmen come from a history of 5 generations of master tailors and craftsmen – and we see a future where dressing the discerning man is an event to be celebrated. We believe every one of our clients has a personal style that wants to express itself. And we're here to help it come alive.
We celebrate the art of dressing well.
The key to a well balanced wardrobe is opting for pieces that work well together. Whether it's a jacket that can be paired with multiple trousers, a suit that can be paired with multiple shirts/ties, etc. This gives you the ability to grab any few pieces and rest at ease knowing that they work together.
The Kingsmen of King & Bay
Our Kingsmen are amongst the most highly trained, experienced and skilled Master Clothiers in the business.
Ready to discuss look, style and fashion, our Kingsmen will guide you through a creative process of exploration and design to craft the perfect suit or garment for you. They'll take the time to curate a custom clothing experience that will change your expectations forever.
Your Kingsman is your personal style consultant.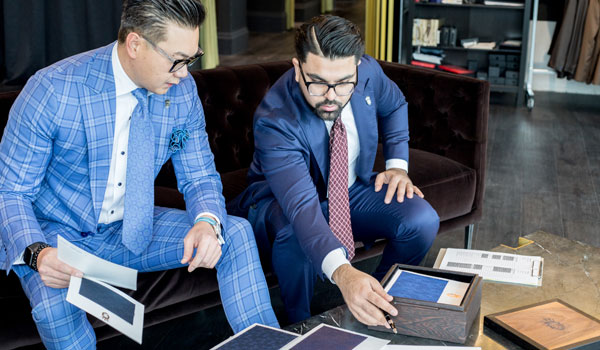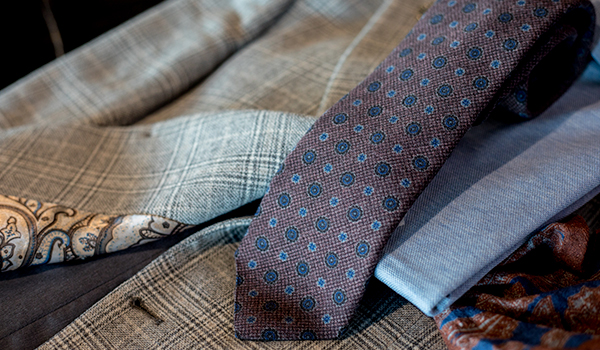 We Know You Have a Choice
We know that going custom is an investment, both in terms of time and money.
Our clients are busy, successful business people, sports and arts celebrities, and gentlemen who savour the process of creating their own unique style, but need to manage schedules and budgets.
We would love to answer the question about why you should choose King & Bay over other Toronto tailors over a drink in our lounge, but understand that you may want more answers before we chat. 
We're Happy To Answer Your Questions. Please ask.
Frequently Asked Questions
Do I need to book an appointment, or can I just drop in?
Ours is a private lounge, so we request that you contact us in advance to book your appointment, either by phone or online.  Book Now ›
How long will my first appointment take?
Typically, we like to allow for up to 2 hours for a first appointment. During this time, we'll get to know you, we'll take your measurements, and we'll discuss options for your first garments.  Book Now ›
What is the difference between custom and bespoke?
This is a great question. The difference is subtle, but very specific. In fact, there are three types of suits in our business: Made-to-Measure, Custom and Bespoke. As you move up the 'scale', each level provides more in the way of 'real' customization and attention to detail.  Read More ›
How long does it take to get a suit made once I've selected the fabric?
For your initial suit, it will take 8-10 weeks. This is due to our Master Suit fitting process. After your initial suit is delivered and your pattern is on file, it will only take 4-6 weeks to order a new custom suit. Learn About the Fitting Process ›
Is your Master Suit Offer unique to King & Bay?
Yes. While many clothiers offer a 2 step fitting process, we have introduced a 3 step process. A Master Suit is crafted for each client to gauge their fit and proportion before their final garment is cut and sewn. This is to ensure the most flattering fit and is the living embodiment of the phrase 'Measure twice, cut once'.  Learn About Our Master Suit Offer ›
Where do you get your fabrics?
All of our fabrics are sourced from the world's best mills, primarily in Italy and England. Our library offers over 50,000 swatches of seasonal and all season cloths.