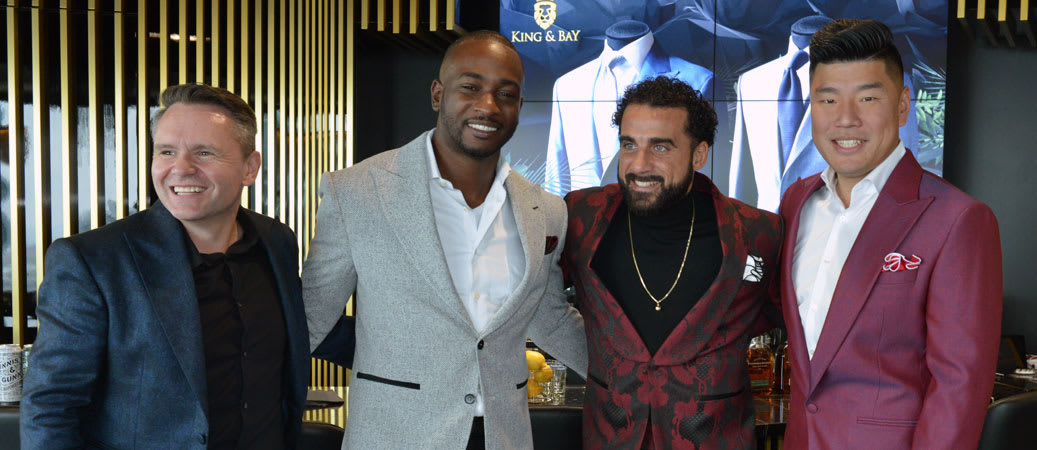 It was definitely a day for the memory books.
At a unique, limited access, private event hosted during FIFA World Cup Russia 2018™ held in support of the work of the DeRo Foundation, three lucky King & Bay clients bid for and won an exclusive celebrity experience with Dwayne DeRosario, former Toronto FC player and MLSE Ambassador.
Mark Allen (ARCG), Brian Johnson (CDW Canada) and Danny Rhee (CDW Canada) each received a custom clothing experience from King & Bay, joined Dwayne DeRosario in our lounge for a private dinner, and had the unique opportunity to watch the final Toronto FC game of 2018 with Dwayne in a private box at BMO Field.
Along with Mark's wife, we were joined by Danny and Brian's children for dinner and the presentation of custom jackets to each of the men before the game. It was a great event in support of the work of the DeRo Foundation whose commitment is to developing local youth through soccer.
Thanks to everyone for a fabulous experience!
---
CLICK ON A THUMBNAIL TO VIEW LARGER IMAGES
---