FUTUREZONA's Ranbir Sidhu develops unique, jaw-dropping sculptures daringly expressed as furniture – as seen first hand in the stunning King & Bay lounge.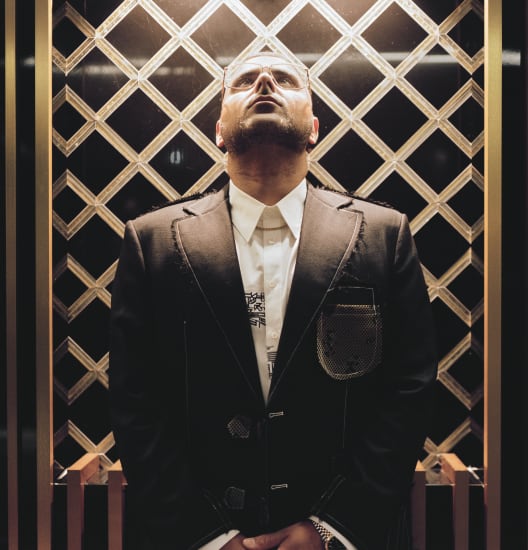 Creator of a setting for royal treatment.
When it came to re-imagining the space for a business that offers an exclusively curated custom clothing experience, the founders of King & Bay imagined creating a 'standout castle' on the top of a 'centrally located hill'. 
In this vision, the 'castle in the sky' is the King & Bay lounge on the 25th floor at 161 Bay Street, the 'centrally located hill' in the heart of Toronto's financial district.
The ultimate goal? To create a space that offered the quintessential setting for providing 'royal treatment' to King & Bay clients.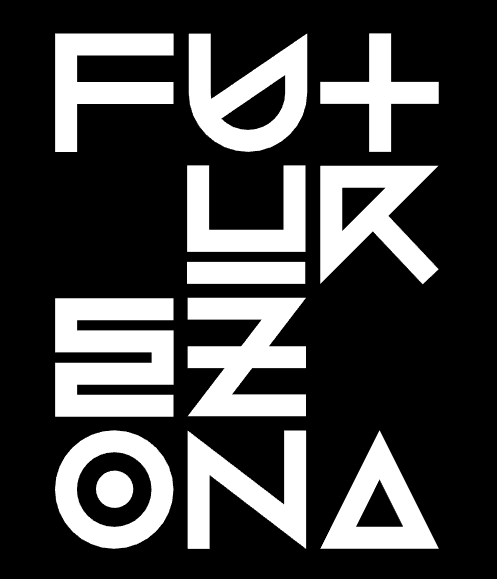 With this vision in mind, King & Bay turned to Ranbir Sidhu of FUTUREZONA, with the confidence that Ranbir's unique imagining could produce what they had in mind.
But would they be ready for what Ranbir had in his?
Where 'unique' & 'innovate' merge.
The story of the King & Bay design revolution, as told by the designer, is one where uniqueness meets innovation. 
At the entryway, the main room is hidden by majestic, velvet drapes. Once you are taken through to the lounge, there is a gluttonous feast for your senses. 
Approximately 4,000 ft. of hand cut aluminum alloy (1,200 tubes) – shaped in a wave pattern – create a unique fluidity throughout the space comprised of over 2,200 components used with 250 unique parts. 
A copious amount of space dressed in glossy black and gold make for a warm, masculine energy – and the central, sit-down bar announces to patrons the multi-dimensional aspirations of the space.
The bar establishes a comfortable, gathering spot with a wall-mounted monitor for sport or presentation - whatever an occasion may call for.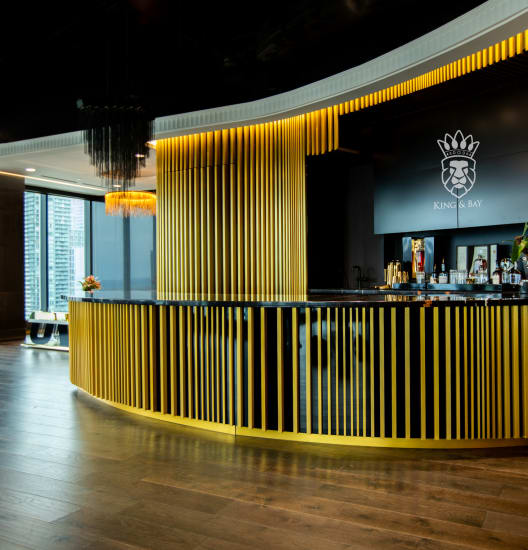 Volume views. Voluptuous details.
In his design, Ranbir cleverly used the volume provided by the elevation to his advantage by designating commercial areas away from the picturesque windows. 
The serene views of cityscape contrasting with the refined offerings at King & Bay keenly balance the room's energy.
There are display cases built into walls that house suits, books and mannequins, framed like artwork. 
Consultation rooms (in African art motifs) were also magnificently designed to be unique characteristics of the space, and a custom display case commissioned by Macallan Scotch Whiskey was erected in a complimentary style.
Invoking a bygone era of Social Style.
The 'social club' style setting of King & Bay is breathtaking at every step. 
With outstanding design elements in every crevice and corner of the space, you'll sink into its comforts and may even forget that your suit is waiting. 
The elements of style that unmistakably belong to Ranbir Sidhu and FUTUREZONA cannot be missed.
However, as you settle in with a King & Bay Old Fashioned in hand, you begin to realize the majesty of your surroundings.  You begin to recognize the opulence and exclusivity of your circumstance. And you relax into the backdrop of a maestro's art.