We met Aaron Gifford at Canada's Bridal Show. He and Master Clothier Michael Truong hit it off immediately. The result was a wedding look that fit Aaron perfectly.
The King & Bay Experience, by Aaron Gifford
"As soon as I entered through the curtains at King & Bay I knew I was going to have a fantastic experience.
"The style, layout, and views of the city really make you feel that this place is prestigious and well thought out. The beautiful bar area, displays of suits and fabrics, and the various sit-down meeting areas all have loads of character and class.
"Michael sat us down and we discussed the idea for my new suit over a couple of delicious Manhattans. Michael was knowledgeable, friendly and professional, recommending some fantastic ideas for the suit to fit in with the style of our wedding.
"Having had the pleasure of trying on the final suit recently, I felt like a million bucks and was grinning ear to ear. I could not be happier with the final product."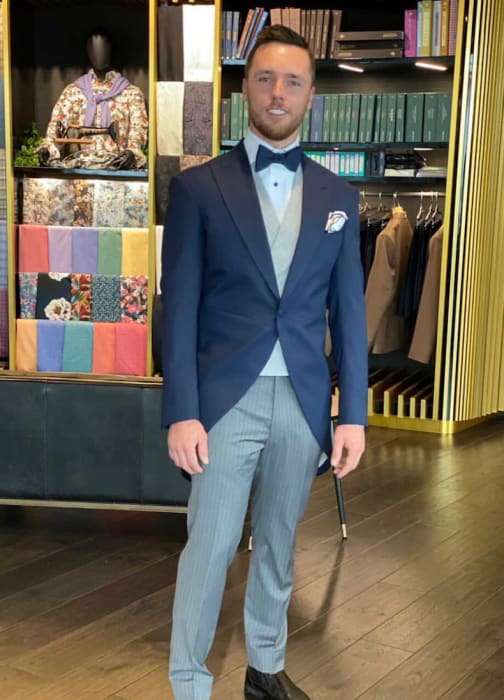 Spreading the Love
"Everyone at King & Bay is very good at what they do, and are all very friendly and approachable.
"After hearing of my experience, my brother is now having Michael help to create the perfect suit for his own wedding as well.
"I would recommend King & Bay for anyone that would like the experience of getting their own custom and high quality clothing while in a comfortable, classy, and stylish atmosphere."
Professionally, Aaron is a Real Estate Appraiser with Gifford Appraisals.