We had the pleasure of interviewing promising professional boxer, Sukhdeep Singh Chakria about his career, goals, and style, and he is as much of an inspiration as he is an incredible athlete. Read on to learn more about how he's literally beating the odds with every opponent he fights and how his King & Bay custom suits complement his image and personal style.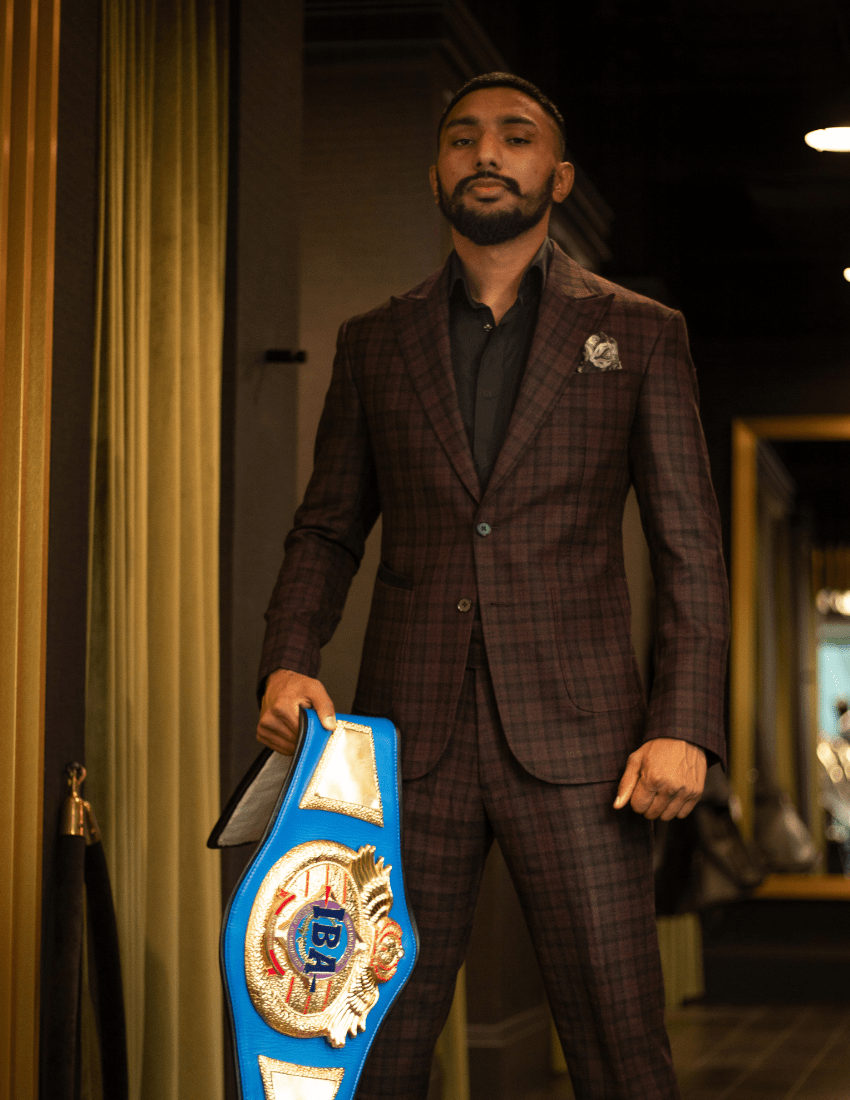 The Man in the Gloves & Custom Suits
Born in the village of Chakar in the state of Punjab, India, Chakria is a professional boxer for United Boxing Promotions and competes internationally. He has dominated every level of competition from district to national since his amateur start in 2011. Sukhdeep was named the Best Boxer of the League after winning all of his matches in the Super Boxing League. Now as a professional boxer, Chakria reflects on his personal style, why his career started, and how he wants to be remembered after his career.
An Interview with Sukhdeep Singh Chakria
Q: Who or what is your biggest inspiration?
A: It may be cliché, but my biggest inspiration is to be the best I can be and to continue to grow as both a fighter and a human being. The people who have and continue to inspire me are my forefathers who bred warrior blood throughout my Sikh heritage.
Q: What does it mean to you to be a fighter?
A: Being a fighter is inherent for my kind. I am humbled that I have the opportunity to channel that spirit methodically through sport. My ambition is to ensure this opportunity is afforded to those around me – so that we have a place to manage their vigilance rather than succumbing to the civil disobedience that is rampant in that area.
Q: What advice do you have for aspiring athletes?
A: What will forever be the divide between good and great is work ethic. Any natural advantages or disadvantages can be either overcome or bettered by hard and smart work. Doubts may appear, but never allow them to manifest. Keep fighting.
Q: What role does King & Bay play in your overall image?
A: In terms of boxing, my confidence comes from the work I put in at the gym. In terms of fashion, what I wear post-fight and professionally; that confidence comes from the experience and the craftsmanship of the King and Bay team. What embodies my swagger and how I carry myself is the understanding that my body and the custom suits that contours it are the product of hard work and ingenuity.
Q: Even though you have a long career ahead of you, how do you want to be remembered after your career?
A: In my village and the surrounding areas, the support systems for children are few and far between. I was privileged with a place to box and refine my craft through a family that put the future of children in their village above all else through much adversity. After my boxing career is over, I want to be remembered as someone who not only carried on that tradition, but also someone who inspired others to help provide resources for children in developing nations. The harder I work and the more accolades I earn in my fighting years will determine exactly how bright that inspiration shines. Therefore, my motivation is as immeasurable as my odds were. 
We're proud to work with Chakria to create custom suits that reflect his personal style, and we especially enjoy watching him chase his dreams as he builds a career he can be proud of. At King & Bay, we have an affinity for working with professional athletes to create custom clothing that fits their body perfectly. Chakria joins our growing list of professional boxers who have chosen King & Bay as their custom clothiers including Bruce Buffer, Stipe Miocic, and Georges St. Pierre. 
Q: What separates you from other boxers?
A: My background and my warrior lineage separate me from other boxers. I am the first South-Asian Canadian Middleweight Champion and I imagine that I will be the first of my kind to compete for the future titles that I set my crosshairs on. I am thankful that I have a bountiful source of inspiration from which to draw my energy that not many other boxers are attuned to.