If you're a groom wondering what to wear on your wedding day, we have compiled a list of options for you to consider that reflect the dress code of your special day.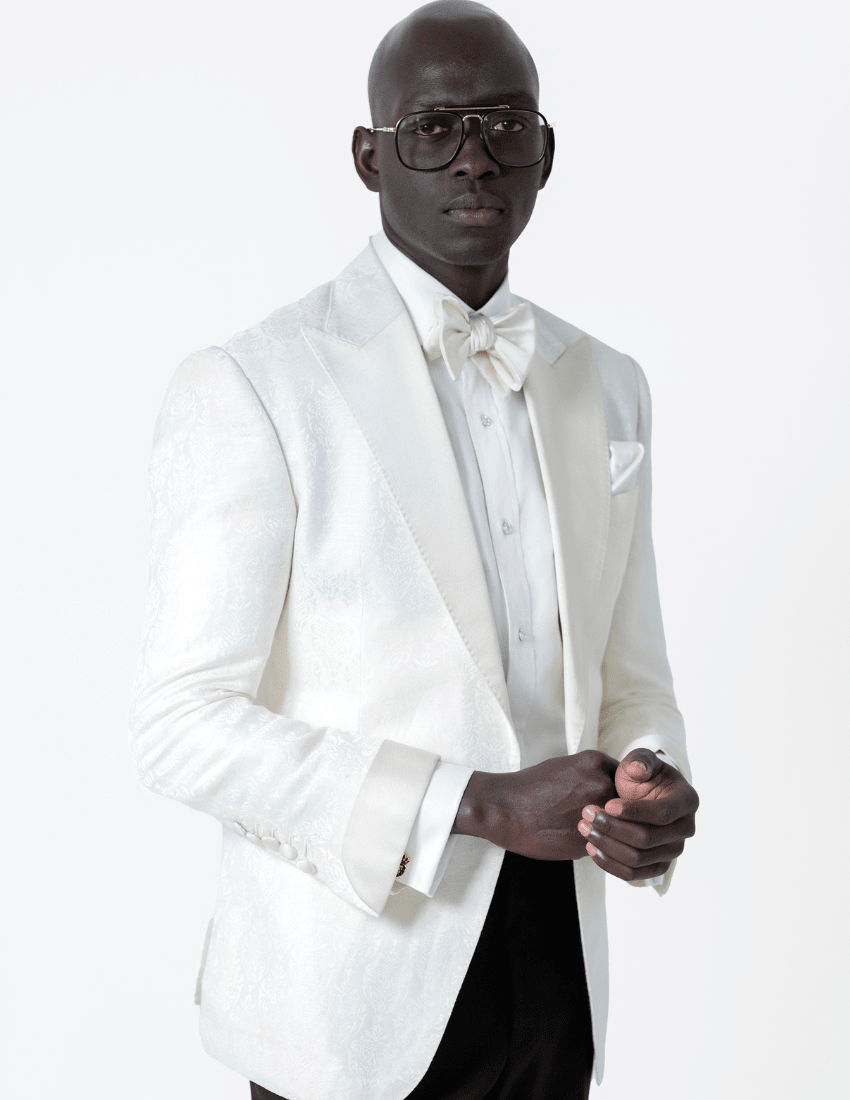 Wedding Dress Codes & Attire
A groom's attire should reflect the wedding's dress code; knowing what to wear and how to dress is very much dependent on how formal the wedding will be. We've provided wedding attire options grooms can consider depending on dress code, from the most formal to the most casual.
Groom's Attire Options
White Tie
White tie is the most formal of all the wedding dress codes. For this specific style of dressing, the groom's jacket must be an evening tailcoat with peaked lapels that is worn open. The trousers must be high waisted with two lines of braid down the outside of the leg. The shirt must be a stiff white evening shirt that is either pleated or plain, with a winged collar and single folded cuffs. A waistcoat that is cut low enough so the shirt is visible is is essential. The quality of the details is also important such as the cufflinks - every detail matters for white tie events. 
Black Tie
Black tie and white tie are set apart by levels of formality. Black tie still denotes a formal occasion and grooms typically wear tuxedos to their wedding. However, this classic dress code allows the option for creativity when it comes to the fabric and fabric colour. Grooms can choose textured tuxedos in colours other than black such as midnight blue. For accessories, true black tie means a bow tie should be worn even though long ties are becoming acceptable. If grooms decide to wear a bow tie, it should be one they tie themselves as opposed to one that is pre-tied.
Black Tie Optional
Black tie optional still means formal, and the key to mastering this dress code is by wearing dark coloured suits such as navy or charcoal grey. Grooms can wear a white shirt with a tie that matches the suit for a classic, elegant look. Grooms can also opt to match their tie and pocket square to the wedding's overall colour scheme. You can read more about the black tie optional dress code here.
Semi-Formal
A non-traditional suit is a great option for a semi-formal wedding. The seasons also play a role in helping grooms decide what to wear. For weddings taking place in the spring and summer months, lighter weight fabrics such as linen or madras work well. For fall and winter weddings, velvet or flannel are great suiting fabrics. The semi-formal dress code allows grooms to be more playful with their suit, and patterned jackets would be appropriate. 
Cocktail
Cocktail attire is one of the most casual wedding dress code options, and allows grooms to dress comfortably. Grooms should still look polished but they have the option to be more casual with their attire. A tailored sport coat can replace a full suit for a cocktail wedding, and grooms can forego a tie and utilize a pocket square instead. 
Destination
A tropical destination wedding encourages a groom's look to match the setting. A long sleeve dress shirt with linen pants makes for a great beach wedding look. Grooms can also get inspiration from the tropical colours and tie them into their wedding look for their blazers, trouser, or suits. In contrast, a white dinner jacket is a chic look for destination weddings.
King & Bay provides classic and unique suiting options for every wedding dress code. Our Master Clothiers guide grooms through a tailored experience to help them select garments to wear that reflect their personality and style. Call to book an appointment and confidently wear King & Bay on your wedding day.