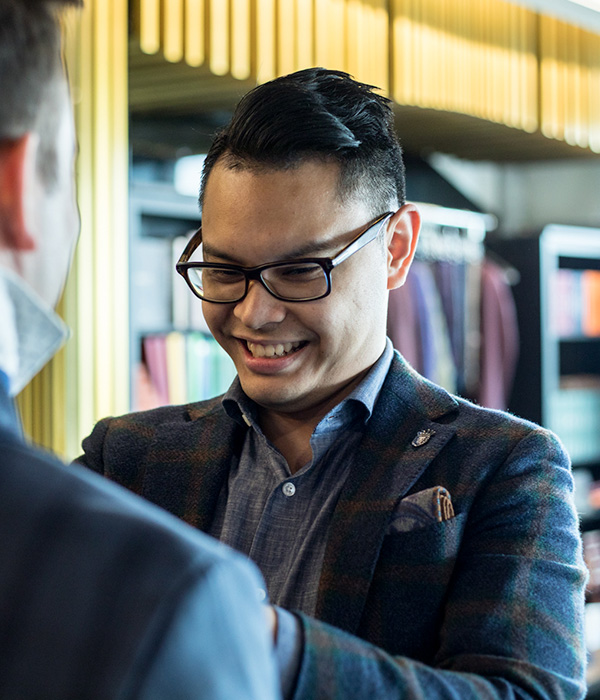 Expect a Smile Every Time
Whether it's your first or fortieth visit to our King & Bay studio, you'll receive the same heartfelt welcome. We'll invite you into our 'living room' to relax, enjoy a beverage and get caught up.
Expect No Pressure... Ever
Rest assured that, unlike other experiences you may have had, there will never be any pressure to 'close' the deal. We understand a long-term relationship means getting to know each other. We take all the time we need to ensure that you know us as well as we'd like to know you.
Expect an Educational Conversation
We believe that education is the key to understanding what we have to offer. You'll talk to a Master Clothier with years of experience dressing some of the most notable people in business, sports and the arts. And you'll learn all about quality.
It's like coming home to a warm welcome.
I cannot say enough about my experience with the guys at King and Bay. When I walk in, everyone greets me like I'm family and it feels that way every time I come back.
Expect Us to Promote Your Personal Style
We believe that a custom clothing experience should be fun and energizing. We'll help you discover how creative it can be to express your personal style.
Expect Fine Fabric, Fine Work & Fine Fit
Working with the top mills in Italy, England and throughout Europe, we offer an amazing selection of fabrics and styles. Our craftsmanship and quality control are second to none. And, fine fit is the heart of the business we're in.
Expect Integrity Pricing
When you get to know us, you'll learn we don't have sales. Or discounts. Or two-for-ones. What we have is a fair pricing policy aimed at delivering outstanding value.
Whether for our Custom or Bespoke service, the combination of quality, service and customization that we deliver is always priced.
Expect an Experience You'll Want to Talk About.