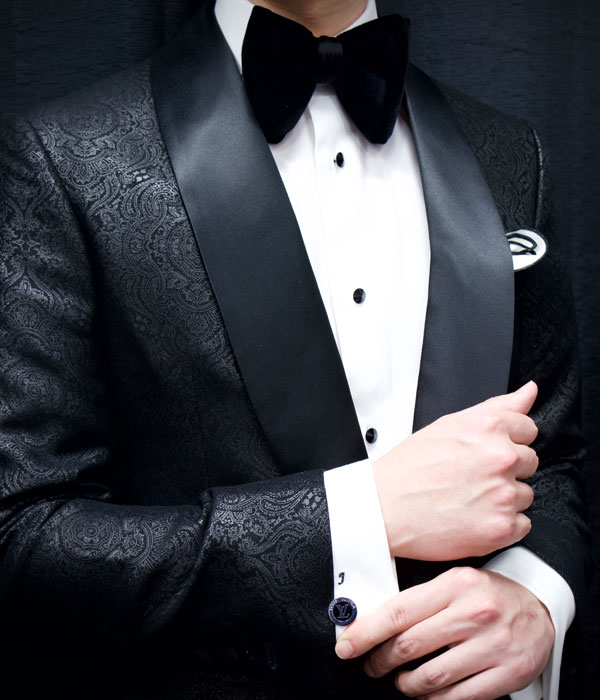 What is a Smoking Jacket?
First used in the sixteenth century, the Smoking Jacket had quite practical origins, as the name would suggest. Gentlemen would wear Smoking Jackets when smoking at home in order to protect their clothing from tobacco smell and ash.
In the nineteenth century, Turkish tobacco became increasingly popular, and after dinner, men would retreat to the parlour with a cigar while wearing a Smoking Jacket.
Over the years, style icons like Dean Martin and Frank Sinatra made the modern Smoking Jacket a thing to covet, pairing their jackets elegantly with a black bow tie, formal trousers, and either patent oxfords or Prince Albert slippers, for a look that still stands out today.
Now King & Bay Clothing brings you the modern Smoking Jacket – a look that definitely makes a statement. View Gallery ›
Timeless elegant style.
King & Bay made me an incredible Smoking Jacket for my wedding and it stole the show. The shine of the blue fabric really made me stand out in the best way possible – and made my bride so happy!
Fabric as unique as those who possess it.
Silk jacquard is a coveted fabric, rich in both visual and tactile texture. It conjurs up a time when a well-made jacket could transform a man.
Discerning clients who choose a silk jacquard Smoking Jacket from King & Bay join an exclusive club in which their personal statement is expressed through detail and craftmanship.
You will be noticed. Enjoy it.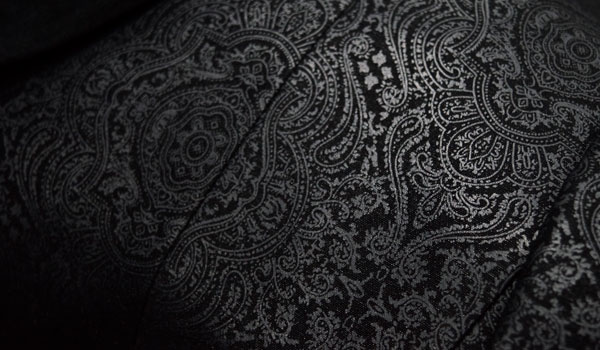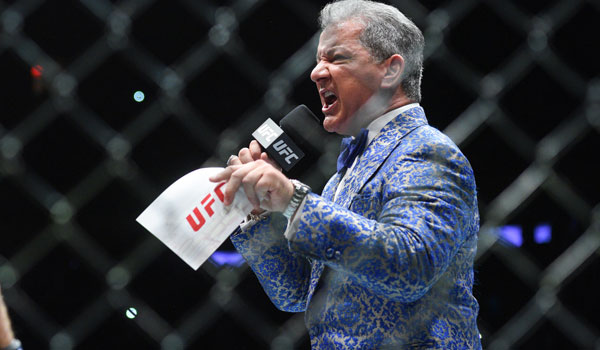 Who's wearing the Smoking Jacket?
The modern Smoking Jacket is a staple of celebrities, athletes, business men and other style makers looking to make a statement.
King & Bay is the Canadian fashion brand responsible for creating the looks for legendary UFC announcer Bruce Buffer – known as the 'Veteran Voice of the Octagon' – for all his UFC events, most recently the UFC 217 fight card on November 4, 2017 at Madison Square Garden New York City.
Dress like an icon in the modern Smoking Jacket.
Frequently Asked Questions
For what types of occasions would I wear a Smoking Jacket?
A Smoking Jacket is perfect attire for black tie events or anytime a Tuxedo is required. It can also be worn for galas, upscale parties or any other event that call for formal attire.
Can I wear a Smoking Jacket to less formal events?
Absolutely. A Smoking Jacket is very flexible addition to your wardrobe. You can wear it with jeans to a less formal event or with no tie and dress pants. Lots of looks are possible. Ask our Master Clothiers for more ideas.
Is a satin or velvet lapel standard on all Smoking Jackets?
The satin or velvet lapel makes a Smoking Jacket very formal – enough so to replace a Tuxedo. However, for a more subtle look, we can design the lapel the same fabric as the jacket. This tones down the look, while still offering elegance and sophistication.
What makes a King & Bay Silk Jacquard Smoking Jacket so unique?
Firstly, the silk jacquard fabrics we offer are exclusive to King & Bay.
Secondly, the availability of each fabric is limited – so only 1-5 jackets can be created using any single piece of our silk jacquard.
Thirdly, your Smoking Jacket is custom made to fit you with all the details that you choose making it unlike any one else's jacket. You will never bump into anyone in your Smoking Jacket at any event!
How long does it take to get a Smoking Jacket made?
If you are a first time client at King & Bay, then the process takes approximately 8 weeks. This is because we create a pattern for you using our Master Suit which ensures a great fitting jacket.
If you are a returning client, then the process takes about 4 weeks. Learn About Our Master Suit Offer ›