For many men in the business world, summer is one of the most uncomfortable times to go to work, since wearing a suit in the heat can be almost unbearable. Here are a few tips on how to stay cool in your suit this summer.
In the summer, walking outdoors to work becomes a pain, resulting in sweat and sticky clothes, and the office quickly becomes humid unless you blast the AC, which in turn becomes its own issue. The dark nature of a conservative business suits, usually either navy or charcoal grey, present an additional challenge when it comes to keeping cool.
It doesn't have to be this way!
Being in the clothing industry, we have some great tips to help you stay cool in the summer heat, while still looking well-kept and professional.
---
Select lighter fabrics for more breathability.
Many men don't realize how important their choice of suit fabric is to the overall feel of a suit. While any well made suit is made from 100% wool, the weight of the wool is a big factor in how warm or cool it is.
The easiest way to dictate the weight of your suit fabric choice is through the custom process.
While many men tend to stick with what ready-to-wear brands have chosen for the season, custom offers a much larger selection of fabric. You can touch, feel and see each cloth before making a decision to craft it into your suit.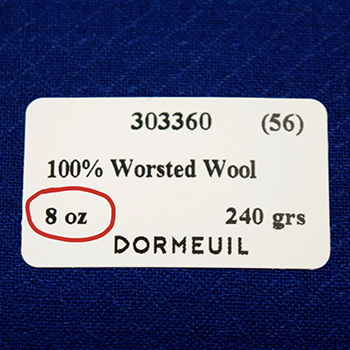 Most fabric mills offer to write the weight of the cloth directly onto the swatch so that it becomes much easier for clients and clothiers to make decisions and recommendations.
For spring, opt for a lighter weight wool. A wool that is 9oz (270gr) is considered to be all season, while anything from 7oz (210gr) to 8 1/2oz (250gr) is ideal for warm weather. The lighter the weight, the more breathable the suit.
Furthermore, blends of wool mixed with other lighter fabrics like linen or silk will add to the breathability.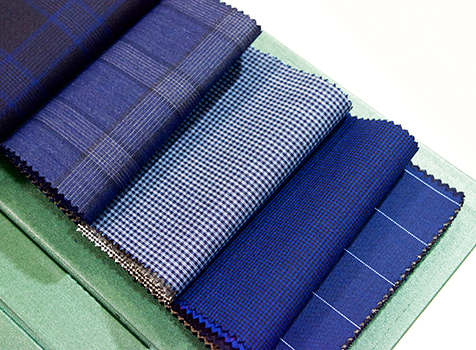 Go one shade lighter.
It is often said to never wear black in the sun as it absorbs heat. This concept is not only applied to black but all darker shades of clothing. Navy and charcoal suits will absorb heat just as much due to their dark nature.
We always recommend lighter colours in the Spring & Summer.  While colours like green and cobalt blue aren't necessarily considered as 'work appropriate', we recommend opting for at least one shade lighter than navy and charcoal.
For your blue suits, try going for an indigo suit or a cerulean, (like the one above) which still falls under dark blue, but are not as dark as navy. For grey suits, experiment with a slate grey, mid grey or even a light grey if your office permits. You will notice a difference right away.
---
Build it Lighter – With a Quarter Lining or No Lining)
Another significant reason why men find it incredibly uncomfortable to wear suits in the heat is how stiff they feel in them. This is due to the construction of the garment.
Unlike bespoke or custom, many ready to wear companies tend to cut corners in their craftsmanship resulting in a suit feeling rigid and stuffy.
Our key to a much cooler suit in the heat is to opt for a jacket that is quarter lined or unlined (shown here).

Opting for this construction for your work suits will guarantee a much more ventilated, cooler, lighter garment. Also, due to the lack of a lining, the jacket will feel much more comfortable due to the natural drape.
Remember that your image plays an important role in how you are perceived by others. Staying cool in the heat is not a task to take lightly as your overall mood is affected by how physically comfortable you feel and people will take notice. However, we believe that if you follow these simple steps, you will feel much more comfortable and cool in the heat, wearing your work suits.
---
« MORE SPRING & SUMMER STYLE TIPS | GET STARTED WITH KING & BAY »