Summer is almost here in Toronto. It is safe to say that spring can be a weather roller coaster, sartorially allowing us to utilize both sides of our wardrobe.
If you have read our article on dressing seasonally, you'll understand that your closet should have a healthy balance of all season, spring/summer and fall/winter garments. This allows you to dress appropriately for the weather, just as much as dressing for the appropriate season.
As summer comes upon us, the King & Bay team has narrowed down a few key looks for warmer temperatures.
Brighter colours are the main focus in these outfits, and while some may be more appropriate for leisure than work, we know that evening dinners, patio lunches and many more activities will keep you needing to dress a little more stylishly than a simple t shirt and shorts.
---
LOOK #1
Slate Blue Suit
This great office look is a fantastic upgrade from the traditional navy suit.
If your office is more on the conservative side, try pushing the envelope ever so slightly with a slate blue suit. This great colour is a shade lighter than navy with a hint of grey.
The shirt and tie combination added is clean, simple and contrasts well with the suit.
Notice that we added the pocket square for a subtle pop of colour.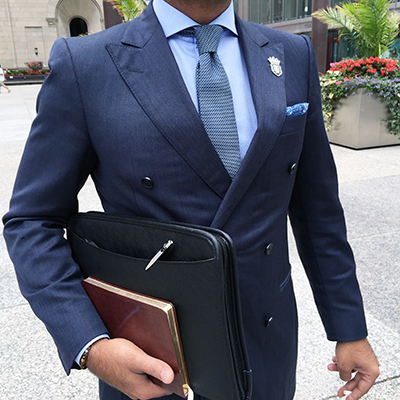 ---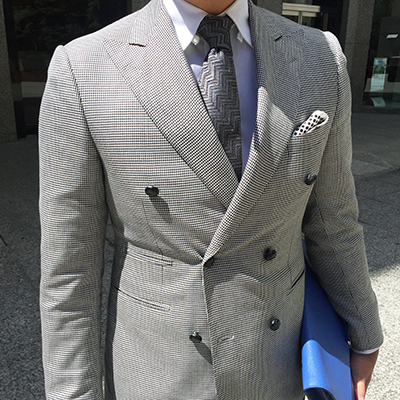 LOOK #2
Light Grey Micro Houndstooth Suit
Grey suits are quite common in work environments, however this iteration has a bit more fashion added to it.
The light grey micro houndstooth pattern adds a unique texture and depth to the suit while the geometric tie makes the outfit adds the right amount of contrast. Simply using lighter shades of grey makes this look much more appropriate for summer.
If your work place allows for lighter grey suits in the summer, try a look like this.
LOOK #3
Cobalt Blue Wool / Mohair Suit
Blue is the most commonly found menswear colour as it is the easiest for men to wear – and this cobalt blue is a fantastic spring look.
The classic contrast between warm and cool are utilized perfectly in the suit and tie. If your office allows a little more creativity to your suiting, try being a little bolder in your summer blue suits.
If this is too bright, try going a shade darker, opting for shades like cerulean or royal blue.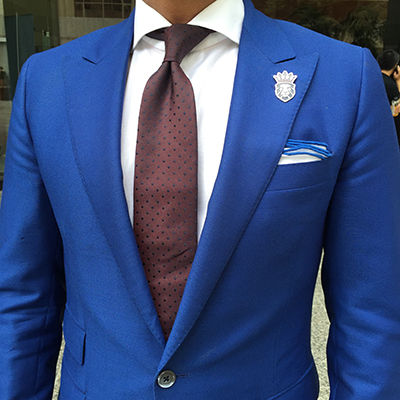 ---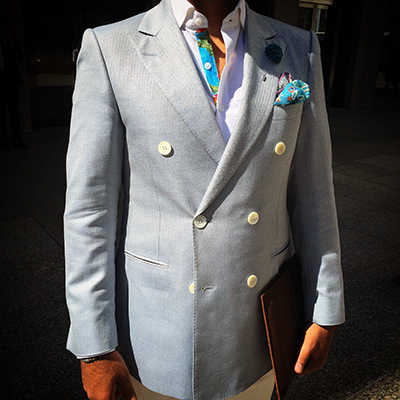 LOOK #4
Light Blue Wool / Linen / Silk Blend Sport Jacket
A blend of wool, linen and silk is a great fabric for this summer. While the wool & silk add its sheen and vibrance, the linen adds breathability. This jacket is meant to be a look in your wardrobe, pulled out for a patio somewhere you are meant to be dressed stylishly. Summer is the season to be out and about in the city so investing in a smart casual jacket like this will only be beneficial to the leisure side of your wardrobe.'
---
LOOK #5
Coral Linen Check Sport Jacket
This fabulous King & Bay Coral Windowpane Linen Sport Jacket is a fantastic outfit for a warm spring day. Of course, with summer coming soon, linen is an essential fabric for jackets as it breathes effortlessly and helps you keep cool in the heat.
The coral hue mixes perfectly with the white shirt and casual silk knit tie for a clean, elegant look.
This outfit is perfect for a patio lunch or night out. Lose the tie for an even more casual look.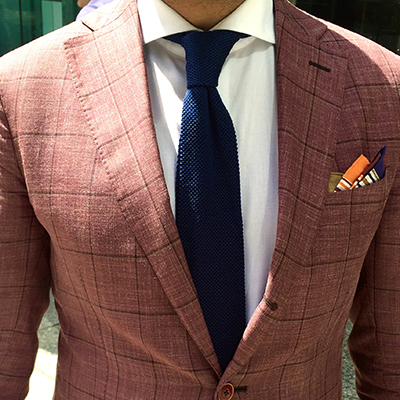 ---
« MORE SPRING & SUMMER STYLE TIPS | GET STARTED WITH KING & BAY »
---