The unique personal style of Jason Pottinger, former linebacker for the Toronto Argos turned CEO, was front and centre at his recent wedding.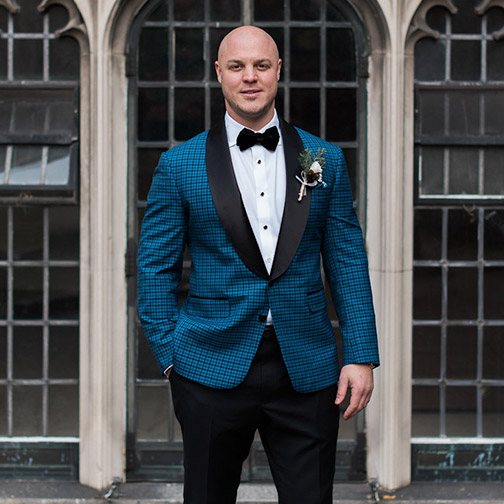 Athlete. Businessman. Husband. Whatever hat he's wearing, Jason's definitely looking good.
Jason Pottinger is a former pro with the CFL – he was drafted second overall by the BC Lions in the 2006 CFL Draft – turned successful entrepreneur.
As CEO of Academic Technology Ventures Inc., Jason leads a team that helps in commercialize cutting-edge technologies to connect University & Government Lab Inventions with a global marketplace.
For his recent wedding to the beautiful Elizabeth Morningstar Jason worked with our Master Clothier, Hozefa Hararwala to design a stunning smoking jacket in a unique cerulean micro-check, with black lapels and trousers.
The photos from the wedding, held at Hart House in Toronto, are stunning!
Jason is an unbelievably talented guy – excelling across multiple disciplines from athletics, to academics, to business – and it is a real honour to have him as a client of King & Bay.
---