As the official Octagon announcer for UFC events, Bruce Buffer is front and center at every fight. Bruce has been a long-time client of King & Bay, setting new standard for looking good in the ring with a unique custom smoking jacket designed for each UFC event.

It's always exciting when Bruce shows up at King & Bay.
In early 2016, Bruce Buffer stumbled upon a social media post of a custom ivory smoking jacket with a black lapel by King & Bay... and decided that he wanted the look for UFC200 (Tate vs Nunes).
He reached out to us and we chatted a bit through video before he was 'officially' introduced by a long-time friend of King & Bay. And from that point on, it's been an historical ride.
Bruce Buffer's custom outfits at UFC 200 were the talk of the internet
UFC 200 was set to be one of the biggest events to date, marking the 200th event since the company's inception. The octagon was a different colour, the fight cards were stacked with big fights, and many celebrities were in attendance.
The King & Bay team had designed a beautiful ivory tuxedo smoking jacket for Bruce – similar to the first one he saw on social media – but we also had another idea. We thought it would be very cool if Bruce changed jackets mid-event.
Two of our King & Bay Kingsmen flew down to Las Vegas to bring two jackets to Bruce, when he was expecting only one. And he loved the change-up concept.
Fast forward to the fight.
Buffer shocked the UFC audience by wearing the first stunningly beautiful ivory tuxedo smoking jacket. But, what really caught their attention was when he changed into an exclusive black & silver raw silk jacquard smoking jacket mid-fight.
And it made headlines – which you can read here.
The evolution of Bruce's look continues.
From that point on, Bruce works with King & Bay before every UFC event to select the unique fabric and details that help us create his exclusive, custom smoking jackets, which have become his signature look. 
---
FIND THIS STORY INTERESTING? DIVE INTO MORE DETAIL.
See Bruce's Look Through Our UFC Timeline ›
Bruce Buffer Smoking Jackets Photo Gallery ›
Visit Bruce's Website: www.BruceBuffer.com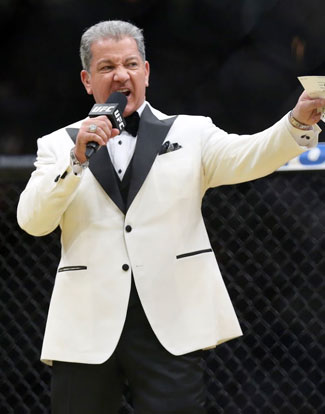 ---