Suspenders are a traditional accessory that men often wear to weddings and other formal events. Read on to learn more about when men can wear them as well as the various types of suspenders they can choose from, depending on the occasion.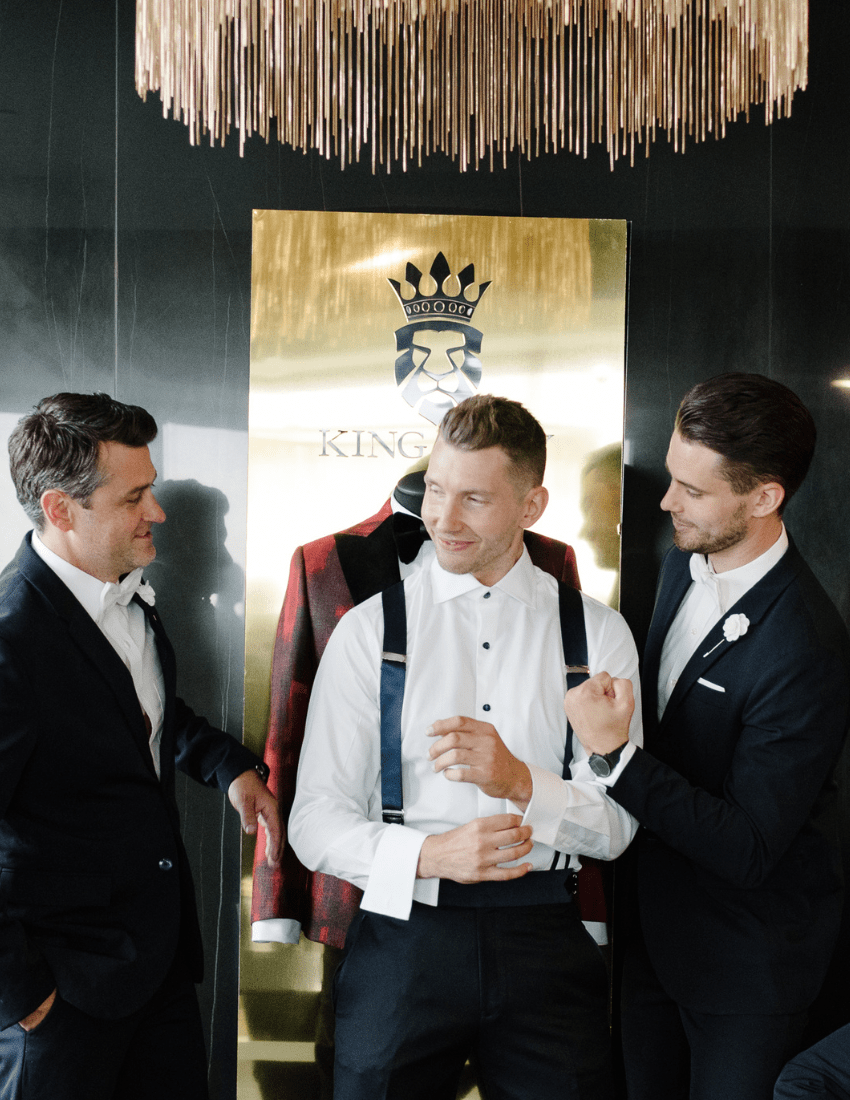 Suspenders: Traditional & Fashionable
Suspenders have moved from being a traditional accessory to becoming more of a fashion statement. Whether you own a pair of suspenders or would like to incorporate them into your looks, we've shared information to give you more insight into this dapper accessory.
All About Suspenders
Clip-on vs. Button-on
Clip-on suspenders attach to your trousers with clips, and the main advantage is that men can wear them with almost any pants. Button-on suspenders are common with formal attire and they fasten to your trousers with buttons; they can only be worn with pants that have buttons in the waistband. 
X-Back vs. Y-Back 
Suspenders either form an X or Y shape at the back. With the X shape, the suspender straps meet in the middle of your back and cross before meeting at the opposite end at the back of your trousers. X-back suspenders clip to the pants in four different places - 2 in the back and 2 in the front. Y-back suspenders are typically worn for more formal occasions since they use buttons rather than clips.
Wide vs. Skinny Straps
As a general rule, wider suspenders have a more classic, formal look whereas skinnier suspenders are reserved for informal occasions. 
Can Men Wear Suspenders with a Belt?
Suspenders are made to hold your pants in place by bracing the pants over the shoulders. It would be redundant to wear suspenders and a belt at the same time since they both serve the same purpose. 
Suspenders for Business
Wearing suspenders to work is a great way to express your individual style and personality. Since they are incredibly versatile, they can be worn with various suit styles. Men can opt to wear suspenders that are colourful and patterned for a more laid-back look. If your position requires you to look elegant, pair a tailored suit in black, navy, or grey with suspenders in a similar or contrasting colour. Complete the look with cufflinks and a tie pin.  
Suspenders for Weddings & Formal Events
For formal events, pair your suspenders with a shirt made from quality fabric; French cuffs are a great choice because they are perpetually stylish. Suspenders are often worn with tuxedos, the quintessential formal ensemble. While black or white is the traditional colour of choice for suspenders for formal occasions, men can add a personal touch by choosing ones that are brightly coloured or patterned - especially since very few people will see them. 
Suspenders for Casual Wear
For a perfect casual look, pair dark denim trousers with a soft chambray shirt, then choose suspenders in a neutral colour. 
Regardless of the occasion, men have several styling options when it comes to suspenders. While men typically wear them in formal settings, they are a versatile accessory that can be used to add a unique, personal touch to various looks.