Spring is a season that's known for its unpredictability, and nothing embodies that more than the rainy weather that can come along with it. While it may be tempting to throw on a hoodie and some rain boots, there are plenty of fashionable options for stylish men to wear when the weather calls for rain.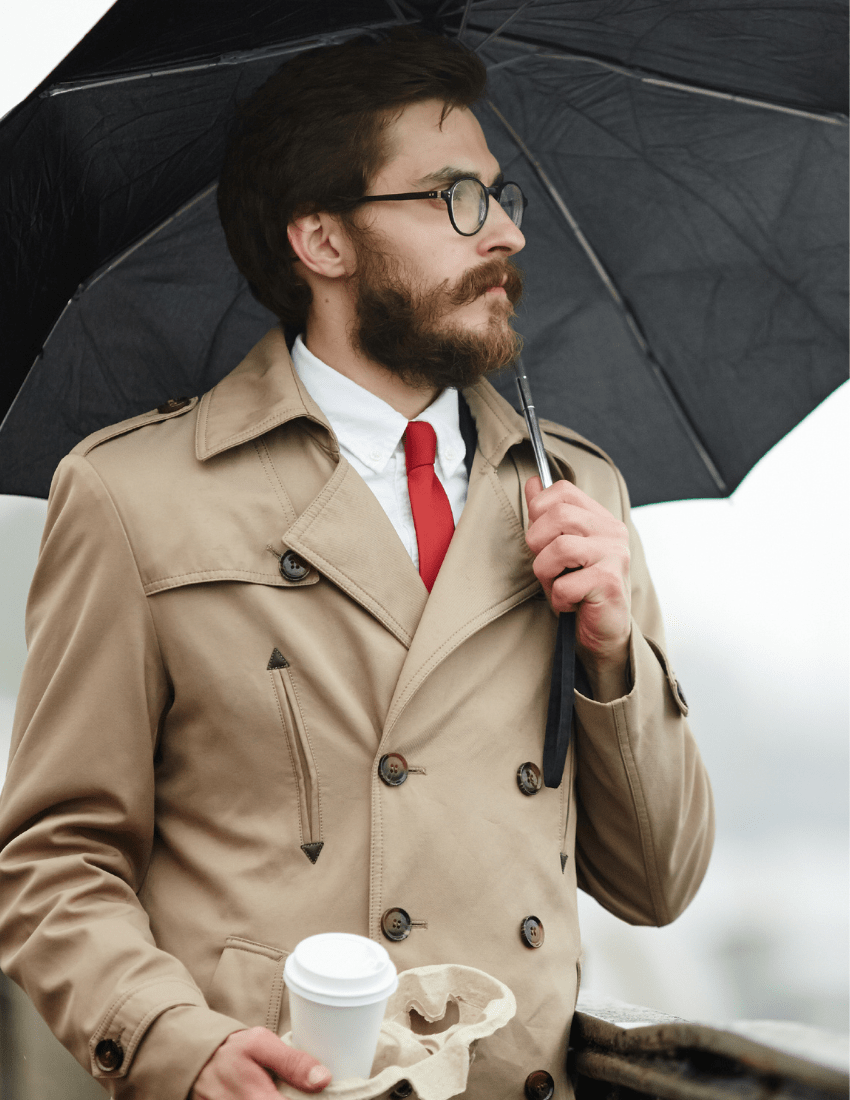 Dapper in Drizzle: How Men Can Dress for the Rain and Still Look Fashionable
Spring is a season full of new beginnings, from blooming flowers to warmer temperatures. However, along with the joys of spring also come the occasional rainy day. While it may be easy to resort to a basic raincoat and umbrella, men's fashion doesn't have to suffer when the weather takes a turn. Rainy days provide the perfect opportunity to showcase your style and make a statement with your outfit. 
Rainy Day Fashion Tips for Men
Invest in a Trench Coat
A trench coat is a classic and timeless option that can elevate any rainy day outfit. Look for one in a neutral colour like beige or camel that can be paired with anything. Consider opting for a double-breasted style for added sophistication.
Choose the Right Footwear
While rain boots may be the go-to choice for wet weather, they're not always the most stylish option. Leather shoes are not only stylish but also more resistant to the rain than other materials. Consider investing in a pair of leather loafers or oxfords that can withstand the rain and still look dapper.
Embrace Layering
Layering is key for sartorial men on a rainy day. Consider layering a lightweight sweater or cardigan under your trench coat for added warmth and style. A scarf is another great layering option that can add texture and colour to your outfit.
Accessorize with Purpose
On a rainy day, your accessories can make all the difference in your sartorial outfit. Opt for a classic and stylish watch that matches your outfit, and consider adding a pocket square for a touch of sophistication.
Add Some Color
Don't be afraid to add a pop of colour or pattern to your rainy day outfit. Bright colours and fun patterns can help brighten up a gloomy day and add some personality to your look. Just be sure to stick to waterproof fabrics to ensure your outfit stays looking its best.
Mastering rainy day fashion for men in spring is all about finding stylish and practical pieces that complement each other. With a few key pieces and some attention to detail, you can elevate your rainy day outfits and make a statement with your style.
Let King & Bay help you create a custom look that is uniquely yours this spring. Contact us.
---
More King & Bay Men's Style Advice