There's Nothing Quite Like It
Your wedding day is one of the most important of your life... and we believe everything that leads to it should be equally special.
That's why we created the Grooms Experience at King & Bay. For the day of your final fitting, let us curate an extraordinary experience for you and your wedding party in our private lounge in the heart of Toronto.
We invite you to luxuriate in the ultimate attention of a private event in the King & Bay lounge.
Create a memory that will last a lifetime.
Talk to Us Today About Your Unique Grooms Experience
You Deserve This
Our private lounge is designed with great care to host events such as your Grooms Experience.
From the interior design, to the custom cocktails and hors d'ouevres, to the ambient details, we consider everything to ensure your private event is extraordinary.
So, let's talk about your vision... what would make your Grooms Experience absolutely perfect for you?
Explore the Extraordinary.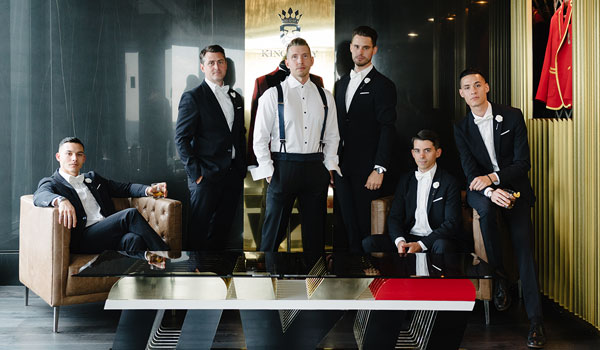 Photo credits: Mango Studios
With King & Bay, grooms and their groomsmen share in an extraordinary process of designing their wedding suits as they look out high up over Toronto from our exclusive private lounge. In addition to perfection in the details of each wedding suit, we offer perfection in every detail of our curated Grooms Experience.
Learn More About Private Events at King & Bay
Learn More