A silk jacquard smoking jacket is definitely an investment piece – but with the flexibility it brings for creating multiple looks, we believe it's an investment with a great ROI.
---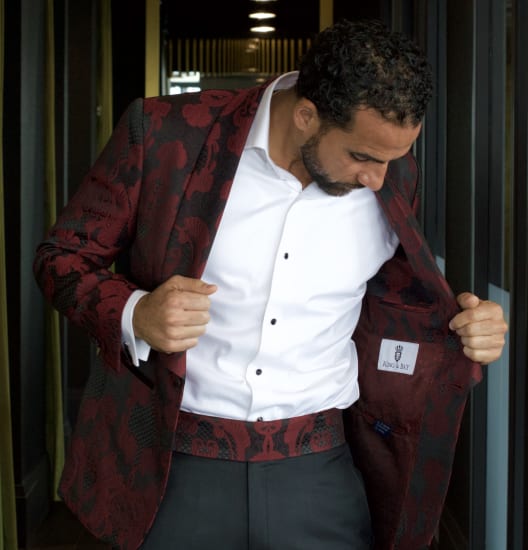 Formal Tuxedo. Casual Elegance. Hip Celebrity.
Since ending his professional soccer career with the Toronto FC, Dwayne De Rosario has leveraged his deep passion and love for the game of soccer to make a positive difference in our community.
His DeRo Foundation offers programming that teaches youth the importance of leadership, teamwork, education, and health and nutrition. It's good work.
Dwayne is a generous individual, and supports his vision actively – including through a private event held at King & Bay in support of the DeRo Foundation.
We love to dress Dwayne. We are particularly proud of this stunning bordeaux and black silk jacquard smoking jacket that offers Dwayne a trio of looks, each distinct, but equally sophisticated.
One Jacket. Three Sophisticated Looks.
It's truly an honour to work with the King & Bay team and be part of a creative process that helps me express my personal style. As an athlete, I 'feel' my body and every garment King & Bay makes for me not only looks fabulous, but also gives me a fit that feels great.
CLICK ON A THUMBNAIL TO VIEW LARGER IMAGES