A custom lining can transform your custom suit or jacket into a truly one-of-a-kind garment. Show off your sophisticated style and let your imagination run wild with custom linings from King & Bay.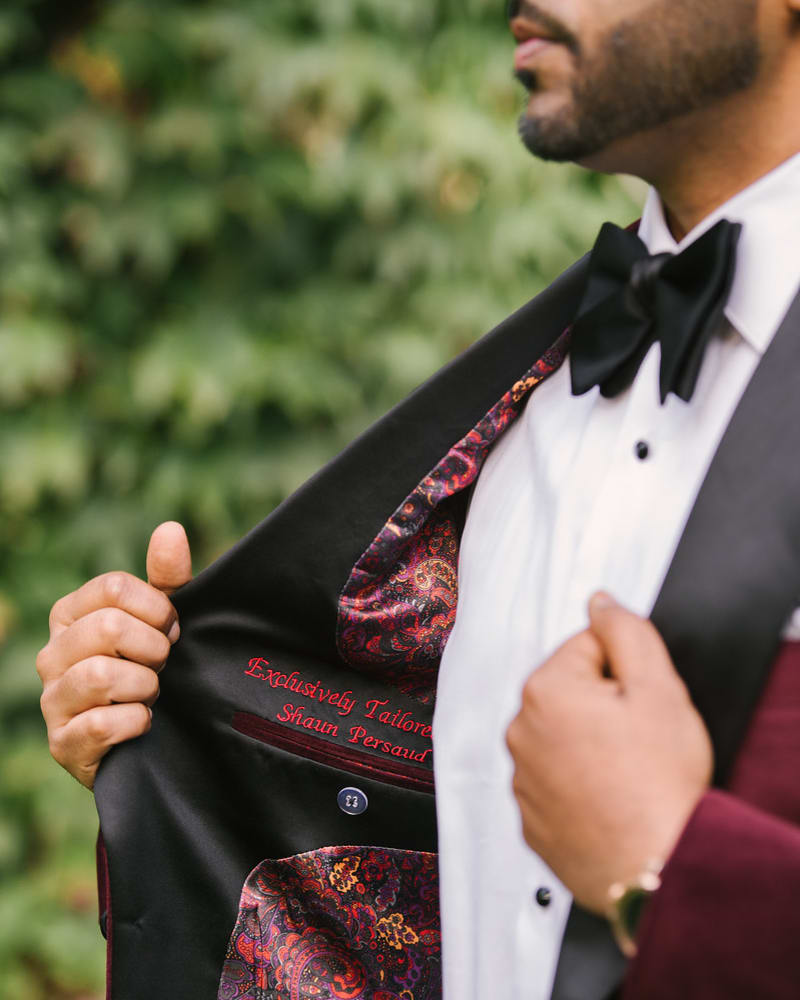 Open Your Jacket & Make a Strong First Impression
When it comes to custom clothing, whether it be custom wedding suits, custom business suits or the signature custom blazers your club is offering, Oscar Wilde said it best:
"For there is no art where there is no style, and no style where there is no unity, and unity is of the individual."
The first impression you make can be the beginning of a lasting relationship, but depth of character is revealed over time and is dependent on 'unity of the individual.'
A custom wedding suit lining or custom blazer lining allows you to reveal your art, your style and your unity of character.
How? Open your jacket and show your love with a custom wedding suit lining describing your commitment. Hint at your after work style with a colourful or playful lining for your conservative business suit. Or, show your affiliation with a custom club blazer lined with your club colours.
A strong first impression also offers an invitation to discover the full breadth of character of an individual. And, to this end, custom linings help hint at what lies beneath the initial presentation.
In addition to fully customized linings, other options from King & Bay include pre-designed paisley and geometric fabric patterns in a variety of colours, and a selection of motif linings from one or our quality fabric providers in England.
If you are looking for the ultimate in personal style, King & Bay offers fully custom linings designed from scratch. You can create your own custom lining with whatever your personal style desires.
Personalize Your Art, Your Style & Your Character
How Do You Select The Proper Custom Lining?
We believe custom garments are pieces of art, articles of style and a presentation of an individuals unity of character.
When selecting a custom lining for your suit jacket, it is important to understand where you will be wearing your suit.
A business suit for the office should have a subtle but stylish lining that hints at your sophisticated style. The Master Clothiers at King & Bay will help you match your personal style with a lining for custom business suit.
If you are having a custom wedding suit designed for your big day, choose a lining that coordinates with the colour theme of the suit and the wedding, or step out to something uniquely meaningful for the day like a custom lining.
If you are considering a lining for a custom blazer, choose something that stands out and expresses your sense of style in a playful or fun way. Custom linings for your organization or club can also be custom designed with your unique logo or brand.
Custom linings give a splash of art and style that allow the individual to present a more nuanced personal presentation in any environment whether it is day to day wear or the ultimate in special days.
Show Your Passion, Show Your Affiliation