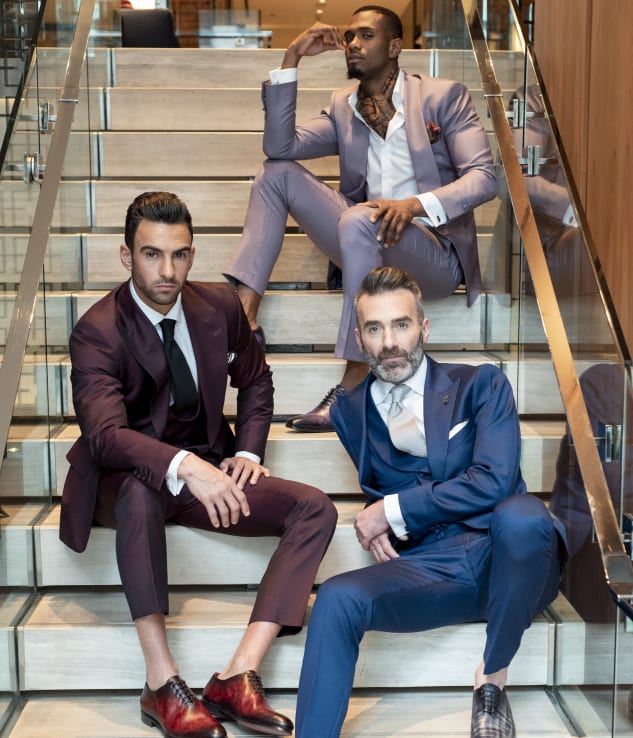 Custom Style That Suits You
Signature custom suits from King & Bay, Toronto's premium mens custom clothing destination, are designed to fit your body, as well as your style, perfectly.
Our reputation is based on an uncompromising dedication to craftsmanship and personal service.
We bring our client's personal style to life with the finest handmade custom suits, business suits, and wedding suits in Toronto.
Our pattern making techniques are backed by generations of expertise. To ensure a perfect fit, we first create your Master Suit – a personalized pattern, designed uniquely for you.
Once we achieve perfection with your Master Suit, we then use it to cut the fabric for your custom suit jacket and pants. 
At King & Bay, we design custom suits for the client who wants to make a distinct impression, unique to his personality. 
With hundreds of fabrics to choose from, endless detail customization options, and custom accessories, including custom shoes your custom suit is a statement of who you are.
From classic to creative, express your personal style perfectly with a custom suit from King & Bay.
Hands down one of the best style consultants you will find in Toronto. I've had suits made for me from scratch at other tailors in Toronto and South Korea, but this suit trumps them all. Not only is the fit spot on, but the style is modern and the quality is fantastic. I will most definitely be getting more suits from King & Bay. I highly recommend anyone to do the same.
Quality in Every Detail
When you work with King & Bay and our team of experienced Master Clothiers, you get quality you can count on, quality that will last.
Distinctive fabrics. Unique patterns. Custom linings. Creativity in the details. You can have it all.
Our custom-made, tailored suits are highly fashionable and functional. Every component and material used is selected to deliver top-tier quality, fit and finish in a custom suit.
And, because every client is as unique as his taste, we'll work with you to achieve a personal look that is the most flattering for your height, weight, build and shape.
In a stylish custom-made, tailored suit from King & Bay, you will stand out in any group. The perfect fit of your suit will accentuate all your best features and express your personal style.
The men who wear King & Bay custom suits simply look better than the rest.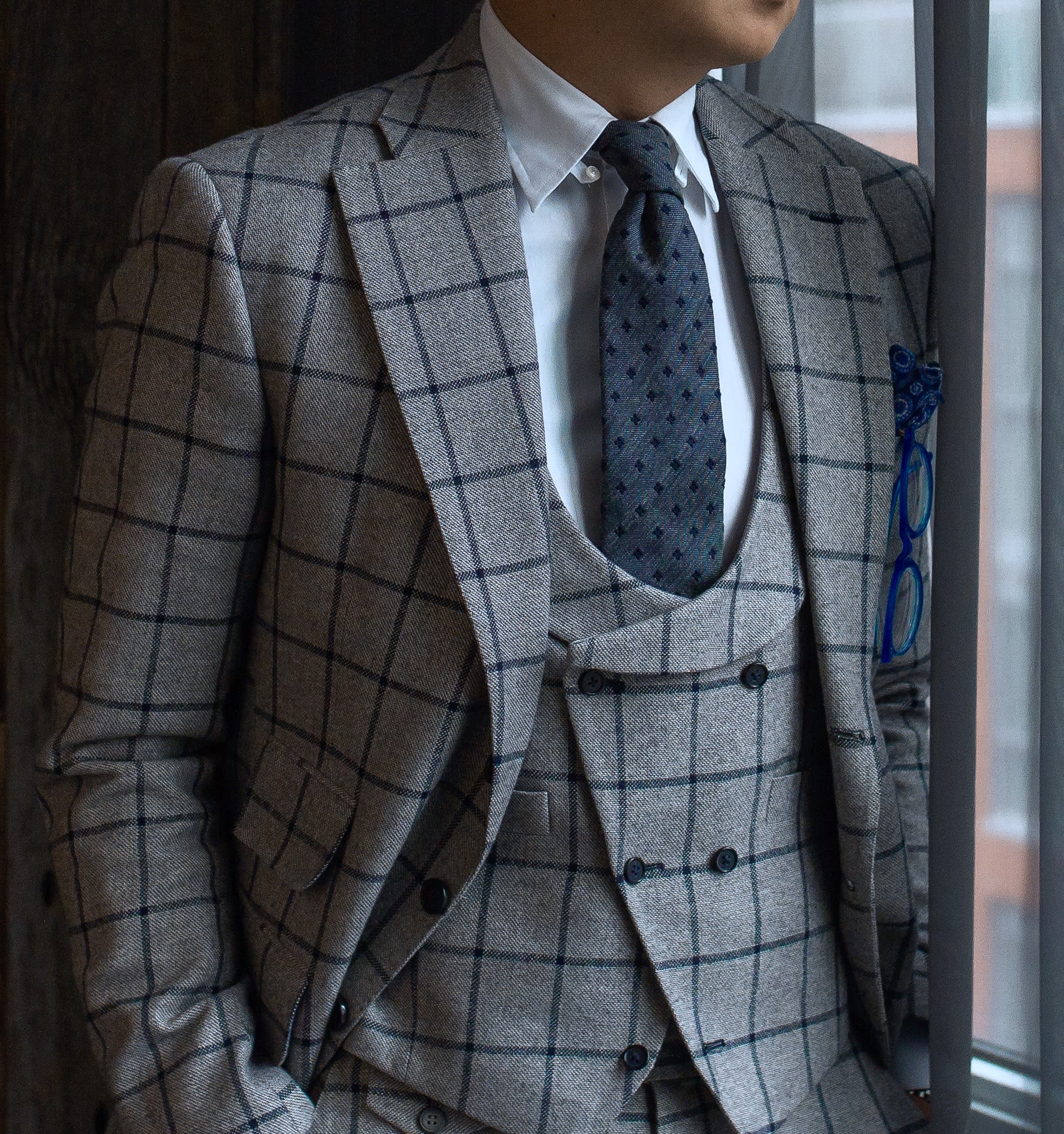 Try us on for size. We guarantee your satisfaction.
Your Custom Suit from King & Bay
The possibilities for your custom suit are endless. Look for inspiration in our custom suit gallery below – and then bring us your ideas.
WHAT TYPE OF MAN WEARS KING & BAY?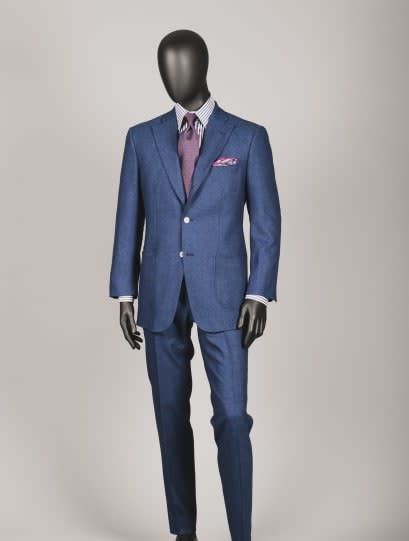 Fall Flannel
Business Suit
This Blue Flannel Business Suit is fantastic to wear in the fall as the fabric is slightly heavier and warmer than a traditional blue business suit. Paired with a striped shirt and a subtle geometric design, this suit is perfect for the office on a cooler day.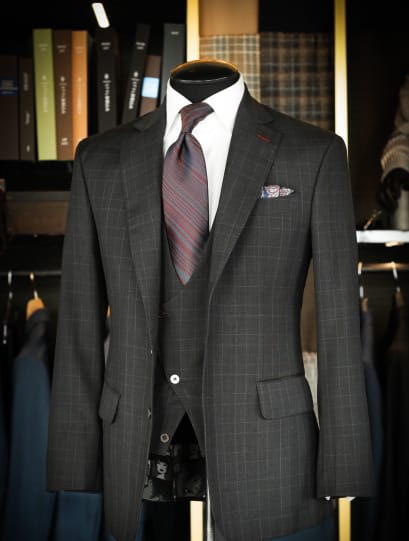 Grey Check
3 Piece Suit
This Charcoal Check 3 Piece Business Suit is a fantastic basic suit to have in your work rotation. Due to its dark nature, it can be paired with lighter colours easily. Wear the suit one day of the week with the vest and another day without the vest for added versatility.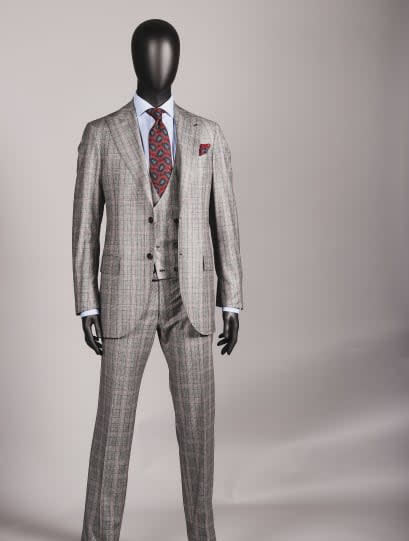 Light Grey Check
3 Piece Suit
This Light Grey Bespoke Business Suit is perfect for the fall. Handcrafted using a luxurious flannel fabric, this suit is a beautiful fall power suit to wear to the office. Featuring a scarlet and green check, we paired a flannel scarlett and green paisley tie.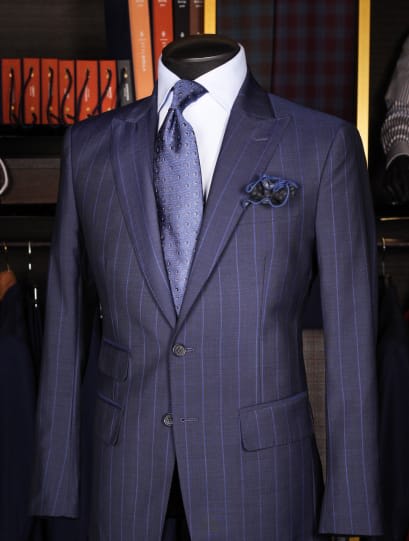 Classic Striped
Business Suit
This Blue Striped Business suit is a powerful look to wear for the office. The wider stripes and the wide peak lapel create a bold look to wear for any important meeting or presentation .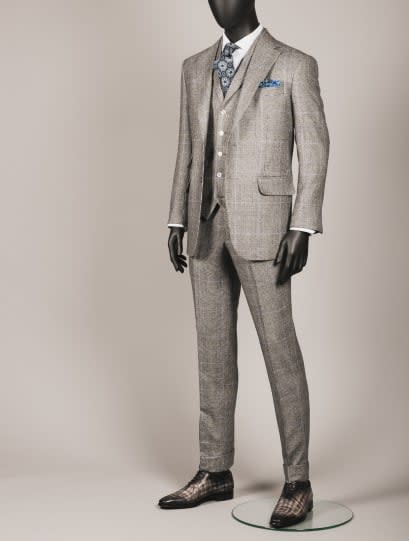 Grey Prince of Wales
Check 3 Piece Suit
The Prince of Wales Check is a classic business suit look and is perfect to stand out at the office. Finished in a flannel fabric along with a notch lapel waistcoat, this suit can be worn in various ways to the office. One day can be worn with the vest, another day can be worn without and nothing is more powerful than wearing a vest, shirt and tie without the jacket during a long day at the office.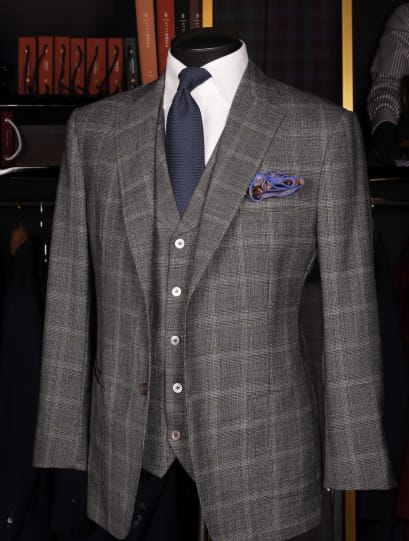 Grey Glen Check
3 Piece Suit
This Grey Glen Check Business Suit is a wardrobe staple to wear to the office as it can be paired with various shirts and ties. It is a fantastic suit to add to your work attire rotation as an all-season basic.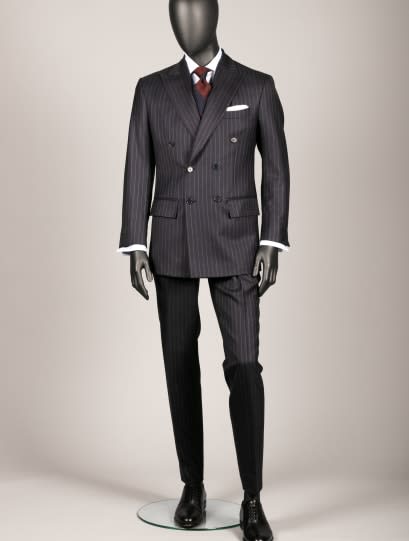 Double Breasted
Striped Suit
The ultimate power suit, this Indigo Double Breasted Banker Striped Suit is the perfect business suit. Wear this during any important presentation or meeting to show the others who is boss.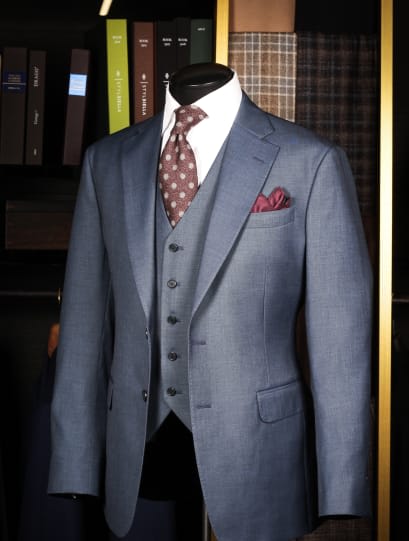 Slate Blue
3 Piece Suit
This Slate Blue Business suit is a fantastic suit for work. In contrast to navy, this suit is a mid blue colour that will stand out at the office.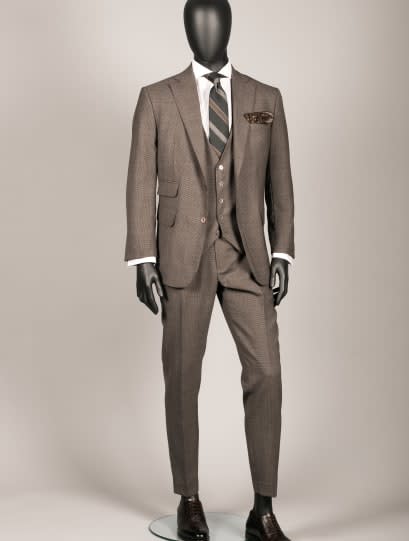 Sand Business
3 Piece Suit
This Sand coloured suit is the best business suit to wear for the summer. While blue and grey are great all season basic tones, sand is a basic summer tone and is fantastic to wear at the office on a warm day.