We've shared the best advice on how men should incorporate layers into their fall and winter wardrobe. Check out seasonal overcoats in our Fall Winter 2022 Collection and learn how they help complete your overall look.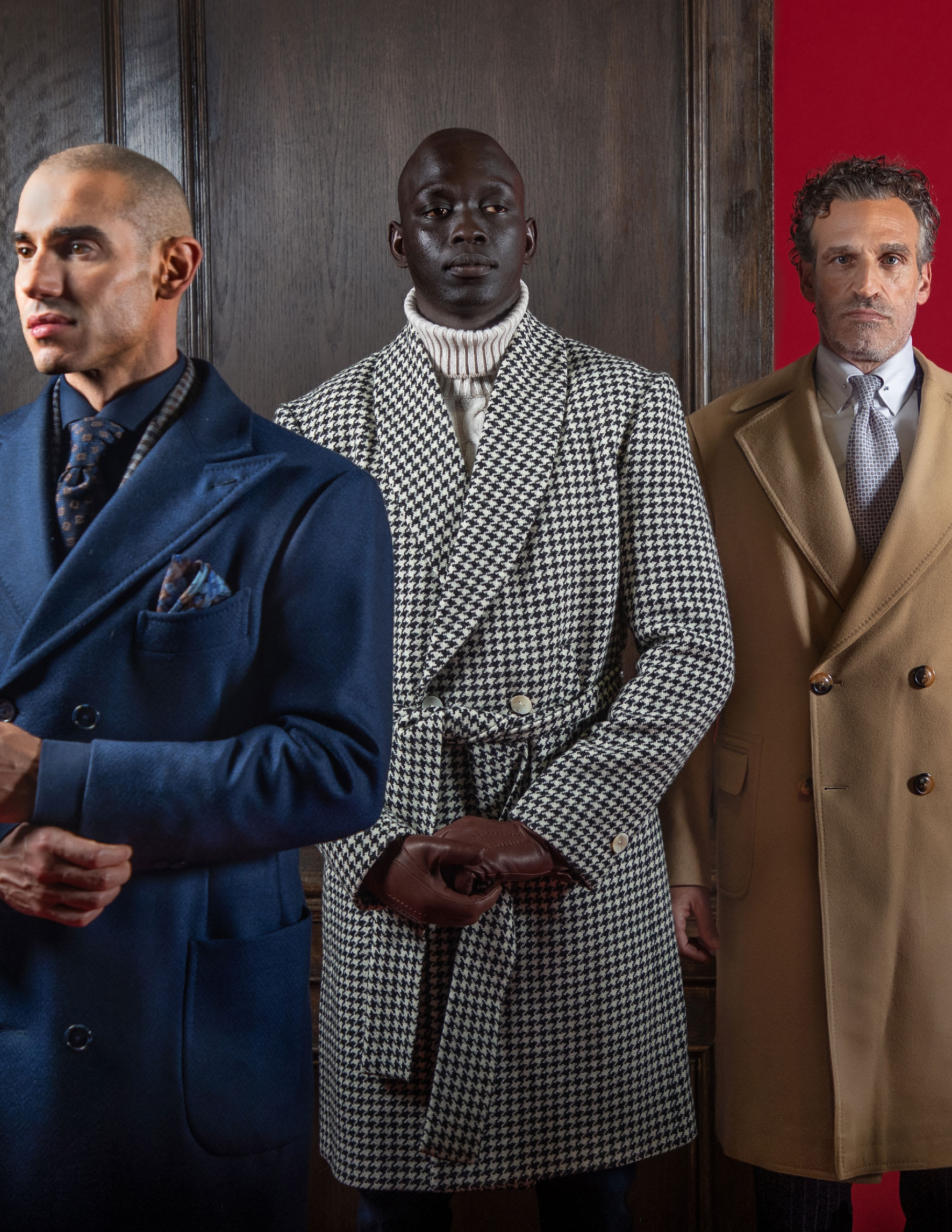 Stay Fashionably Warm This Fall & Winter
The need for men to wear heavier and warmer clothing during the fall and winter months is inevitable. Layering comes down to an appropriate blend of fabrics and dressing in layers is a great way to stay warm and look great. Nothing says sophisticated like a well-layered outfit - and an overcoat is the perfect final touch to complete this look. 
Our Best Advice on Wearing Layers & Overcoats
Fabric Selection
Starting with thin and lightweight fabrics close to your body is crucial so that thicker and heavier garments will have a more relaxed fit as you add the layers. It also helps your clothing selection to drape perfectly. 
Each Layer Should Look Good
Everything that is visible should look good on its own. It's important for men to choose their garments based on whether they would wear that particular piece of clothing on its own. If you aren't comfortable wearing a specific piece in the ensemble alone, then it won't look appropriate in the layers. 
Colours and Patterns Matter
It's important to scale patterns in either direction. For example, you first layer might be a micro-checkered shirt with a solid sweater and solid overcoat. Men should ensure that not every layer has a pattern or the look won't be aesthetically pleasing. Men should also avoid wearing too many bold colours at once. They key is to accentuate neutral and subtle tones with one or two bolder colours.
Overcoats - The Best for Last
Since an overcoat is the final garment to put on in the fall and winter, we've saved it as the last thing to talk about in the blog. It is essential for men to have a well-tailored, custom overcoat because it distinguishes well-dressed men from all others. In addition to keeping you warm in cold temperatures, overcoats also enhance your appearance given their inherent stylish and sleek look. When selecting an overcoat, balance its insulating features with your personal style. The Fall Winter 2022 Collection features a stunning houndstooth overcoat that will certainly make you happy the colder weather is here.
Layering adds visual intrigue to your overall look but there is a right way to do it in order to stay warm and look appropriately dressed. With the custom garments featured in the Fall Winter 2022 Collection, including the houndstooth overcoat, we've made wearing layers both aesthetically pleasing and straightforward.