Making great impressions is a key component of business trips which means men must always arrive looking their best. We're sharing our favourite tips that will help to keep your wardrobe protected and ensure your garments look sharp for every business meeting and event.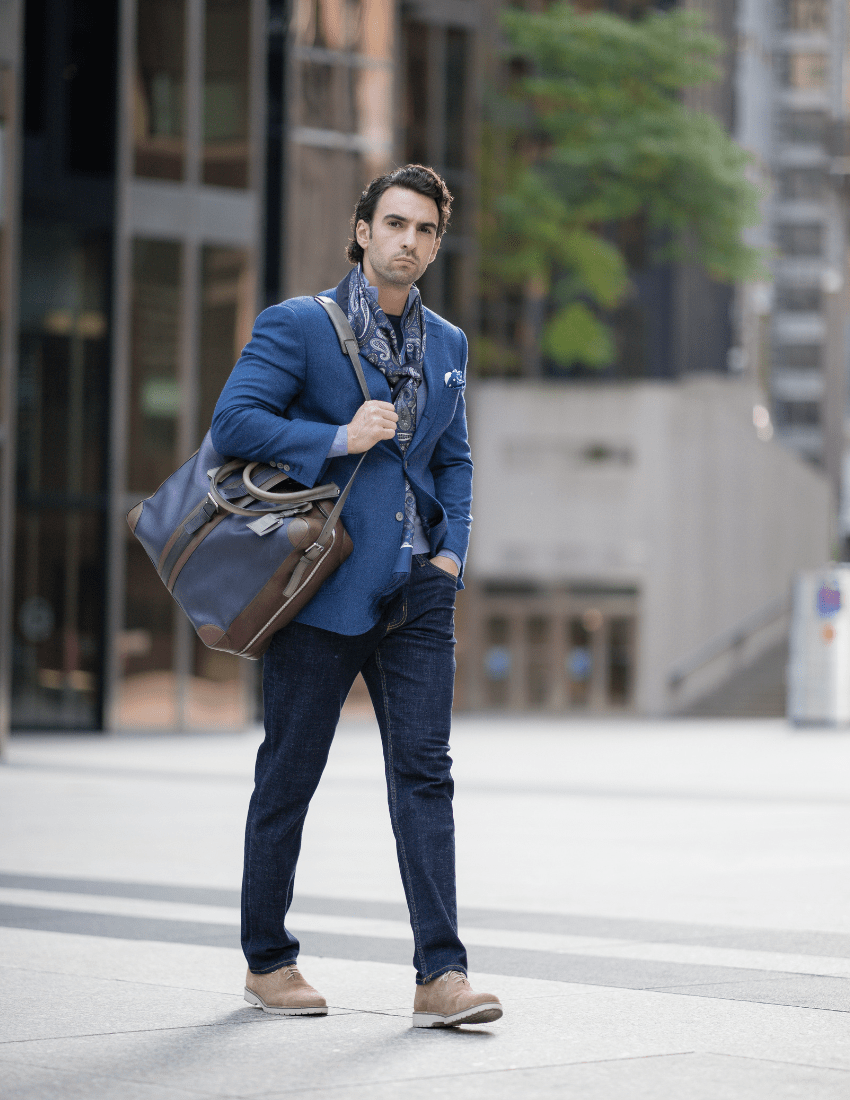 Professional and Presentable.
In a recent blog, we provided a list of essential garments that men should include in their business travel wardrobe. However, knowing what to pack is half the battle. Another significant consideration is knowing how to keep your garments looking sharp to ensure you show up to every meeting and event looking put together and professional. Read on for some of our best tips on this topic.
How Men Can Protect Their Garments During Business Trips 
Pack Crease-Resistant Clothing
One way to ensure you look sharp and presentable during business trips is to pack dress shirts and other garments that are less likely to wrinkle. A few fabrics to consider are wool, cashmere, and denim (if the dress code is business casual). 
Select a Business Friendly Hotel
No matter how carefully you pack, your garments are bound to have some creases when you take them out of your luggage. You can mitigate this inconvenience by  selecting a hotel that includes an iron in the room. Even though you may want to iron your own garments, having this practical option to remove creases in a pinch could be beneficial - especially if you intend on making a good first impression. Some hotels even provide shoe shining machines in guest rooms, which is a great way to do a last minute touch of your footwear. As a business professional, your entire outfit is a representation of who you are which is why looking good from head to toe is crucial.
Don't Overpack
It's easy to overpack however, overpacking your luggage leads to creased clothing. Do your best to ensure you only pack essential garments that you intend on wearing. And, if you pack versatile garments, you can create different looks with fewer pieces. 
Hang Up Your Clothes
While you're away on your business trip, don't live out of your suitcase and instead, remove your garments from your luggage and hang them in the closet. The longer your garments stay folded in your suitcase, the more likely they are to crease. 
Use Quality Luggage and Pack it Properly
Investing in quality luggage is one way to look stylish on your business trip however, the way you pack your luggage is also important. Placing your garments in proper garment bags or dry cleaning bags can help prevent friction and wrinkles. Ensure your toiletries are packed in a separate bag to prevent any spills from getting on your clothing. Finally, while some travel sites recommend rolling your garments before placing them in the luggage, we recommend folding them instead. 
Men should focus on having a minimalist business travel wardrobe so that fewer items are stuffed into a suitcase. This, along with the other tips we've provided, will ensure your garments stay as wrinkle-free and protected as possible.