Knowing what to pack for business travel can feel daunting, especially if business trips aren't a regular occurrence. Packing the right clothing is key to making a great impression at your meetings or conferences, and we have compiled garments that are essential for men to include in their business travel wardrobe.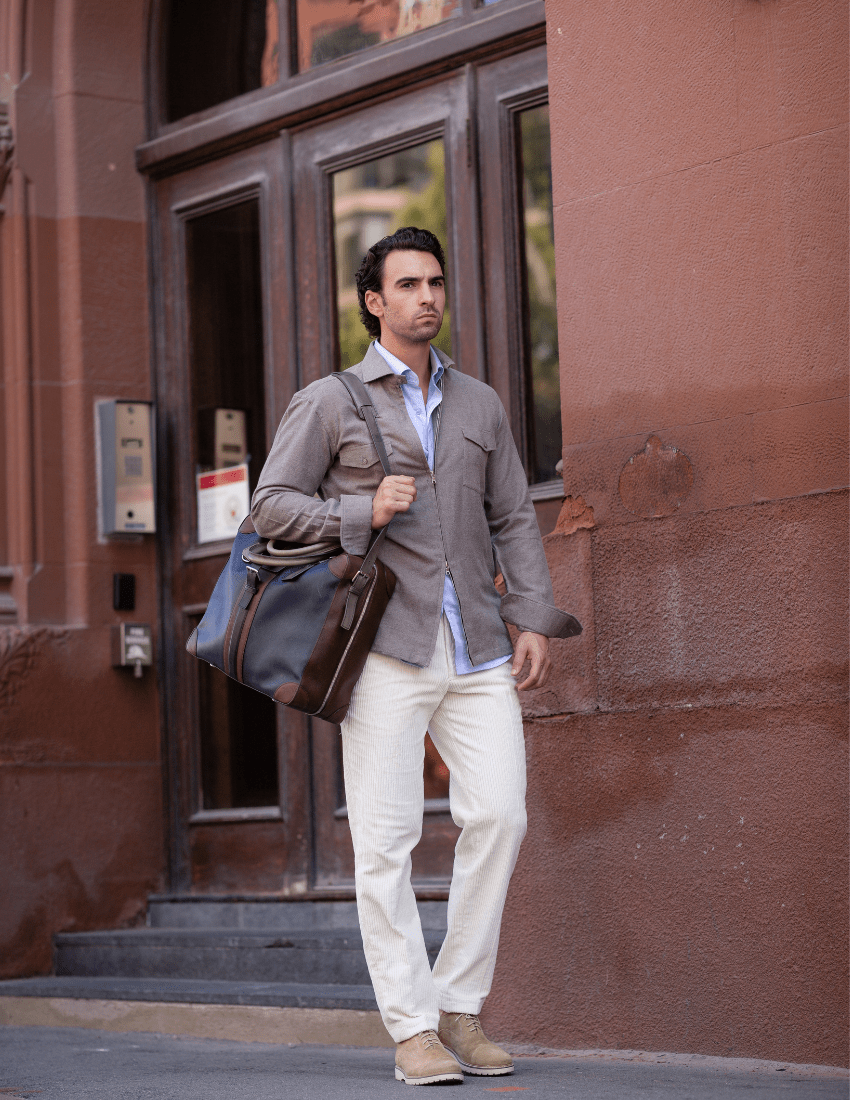 Men's Wardrobe for Business Travel
Whether you like travelling for business or not, setting aside time to pack and get organized for the trip is an important step. We've compiled a list of essential business garments that you should include in your business travel wardrobe.
Business Trip Packing List for Men
Formal Suit
A formal suit is an essential part of a travel wardrobe for business trips, especially if you're attending important meetings where making a great impression is crucial. Choosing a fabric that travels well is key. Tweed and wool are great fabrics because they are more resistant to creasing. If comfort is a priority, then a cashmere suit is a good option since it is a breathable fabric that will keep you warm when it's cool and cool when it's warm.
Blazers
The best men's blazers will ensure you look smart and stylish throughout the duration of your business trip, while also being comfortable and easy to care for. Blazers can be paired with different tops and trousers and can be dressed up or down making it an ideal and essential business trip garment. Depending on the duration of your trip, having a minimum of two blazers will ensure you can create enough different looks for your time away. Wool and linen are great fabric options for blazers because they shape and press well.
Dress Shirts
If you have to dress formally in a suit, then you'll need to pack at least one dress shirt. We recommend packing an additional dress shirt in a different colour that you can wear with the suit, under the blazer, or on its own. You may also want to pack a patterned buttoned down shirt such as a micro check that can be worn more casually and without a tie. 
Trousers
For business travel, you'll need at least one pair of dress pants. Corduroy trousers are also a great addition to your business travel wardrobe because it's a durable fabric and can withstand being folded in a suitcase. Wool trousers are another option to consider packing because they can be dressed up with a pair of brogues or double monks, or dressed down with a pair of sneakers. Lastly, having a comfortable pair of denim trousers is essential for events that require business casual attire. You can also elevate the overall look by wearing the jeans with a dress shirt and blazer. 
Accessories
It might go without saying, but packing a tie is a must for business trips, and we recommend packing an extra one (or two) for variety. Pocket squares aren't essential but can really elevate the overall look of your suit and they are small so they can easily fit into your suitcase. Packing appropriate footwear is also essential. Classic business footwear includes Oxfords and brogues which go well with business suits and jeans. You may also want to pack a pair of sneakers for down time and the flight. 
In a recent blog, we discussed men's capsule wardrobes which is a simplified collection of clothing consisting of timeless pieces that are versatile. Men can use this same approach when it comes to packing for business travel. Having versatile clothing is key to ensuring you pack enough essentials to get you through the entire trip.