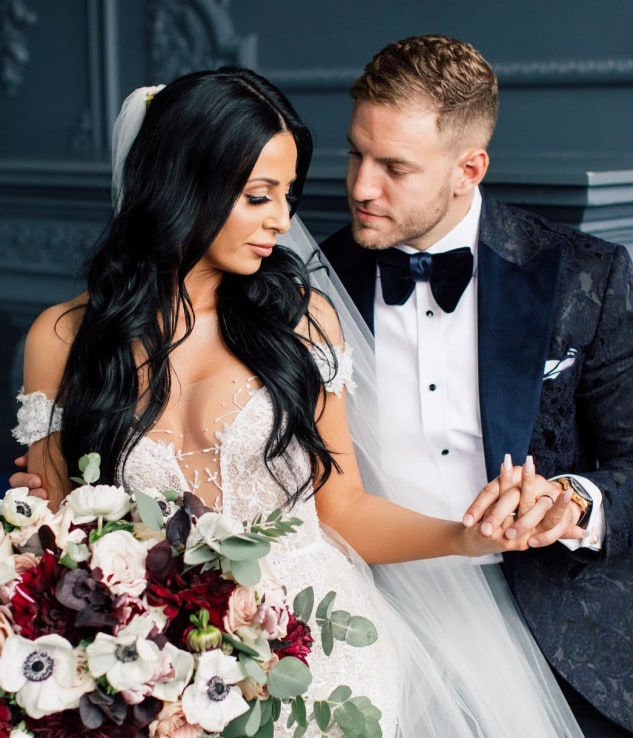 Your Suit Should Say 'I Do', Even Before You Do
If there is a significant point in life when it's important that you feel fabulous and look your very best, your wedding – the day you say 'I Do' to your life partner – is it.
We know how much time and effort our clients invest in organizing the details of their wedding. It can be daunting. And as a groom, the last thing you want to worry about is what you will be wearing .
At King & Bay, wedding suits are a speciality. When you select us to design wedding suits for you and your groomsmen, we provide guidance every step of the way. We make it easy. We make it enjoyable. And we help you create wonderful memories that will last a lifetime. 
Whether you're looking to make a standout statement, or simply want to make your partner happy, we'll follow your lead to design the perfect custom suits for your wedding party.
With virtual consultation options, as well as our private lounge at your disposal, we can work with you and your wedding party individually or as a group,  in person or remotely.
Design. Details. Handled.
Hands down one of the best style consultants you will find in Toronto. I've had suits made for me from scratch at other tailors in Toronto and South Korea, but this suit trumps them all. Not only is the fit spot on, but the style is modern and the quality is fantastic. I will most definitely be getting more suits from King & Bay. I highly recommend anyone to do the same.
Book your complimentary consultation today.
Why Consider a Custom Wedding Suit for the Groom?
Good question! While brides typically wear their wedding dresses for only the one day, wedding suits for men are a bit more flexible, in that they can be worn for any type of formal event after the wedding.
So, whether you're considering a more traditional blue wedding suit, or on with a bit more flair, you can think ahead to when you might wear it again. When you start to do the math, the investment in a custom wedding suit for the groom starts to make good sense.
How Do We Design Custom Wedding Suits for Men?
At King & Bay, it all starts with you, your bride and your vision.
What does the wedding planning look like? Is it a destination event, such as a beach wedding where light blue groomsmen suits might be ideal? What are the wedding colours? What does the brides wedding dress look like? Are you interested in a custom lining?
We take all of your wedding ideas into consideration before we start designing your custom wedding suit.
Then we talk about fabrics and details... measure you up for your master wedding suit... and so starts your custom wedding suit experience.
Wedding Suits For Grooms. Our specialty.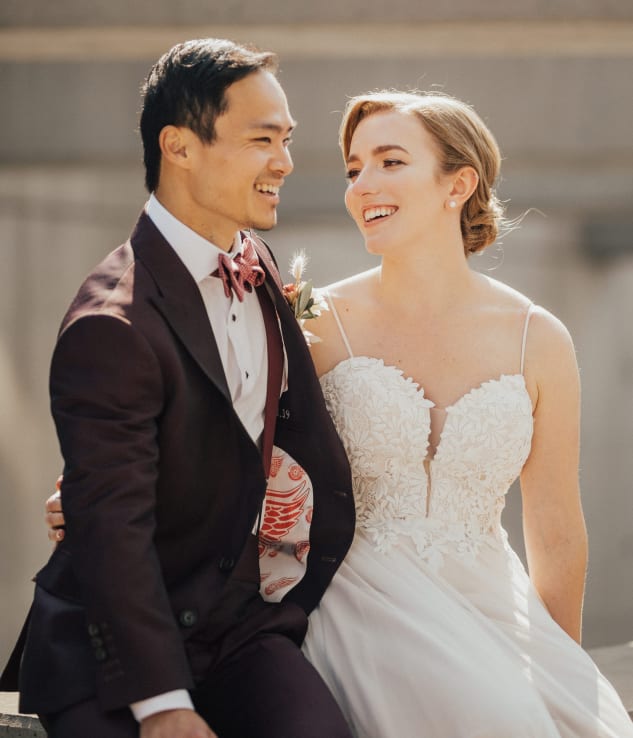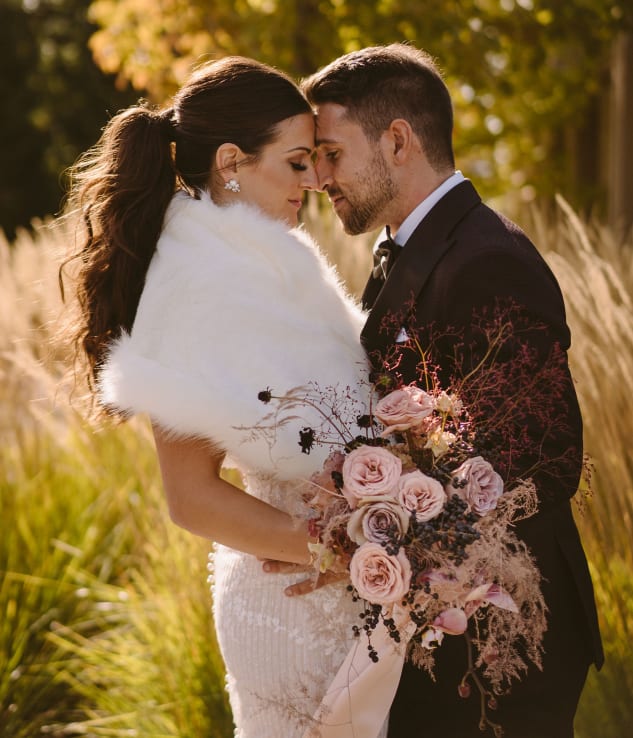 The Exclusive Wedding Experience at King & Bay
One of the unique benefits of working with King & Bay is our ability to turn the design of the suits for your wedding party into a special event. 
We can host you and your bride  – or your entire wedding party – for a curated experience like no other.
Whether in person at our stunning private lounge in Toronto, or through our unique virtual consultation process, we can help you and your bridal party celebrate this stage of your wedding with a private event that includes catered amenities alongside the custom wedding suit design.
Essentially, because ours is a completely custom offering in an exclusive setting, the possibilities are endless. Bring us your vision – for both the wedding suit for the groom and the process – and we'll help bring it to life. READ A FEW STORIES ›
The consultation is complimentary, so we hope you get in touch as you start to plan your wedding look. 
Imagine a curated custom clothing experience created uniquely for you and your partner.
Looking for the best custom wedding suits in Toronto?
Get Your Custom King & Bay Wedding Look
It's your day – and your look should be uniquely yours. We can make it happen with endless possibilities for your custom wedding suit.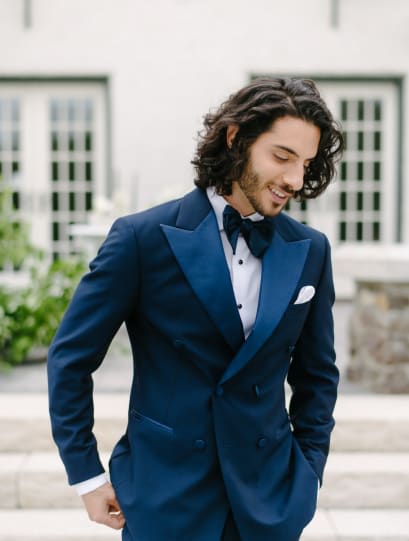 Double Breasted
Wedding Tuxedo
The Double Breasted Tuxedo has been a new look men have been asking to wear for their weddings. Double breasted is a fantastic cut as it allows for a slimmer silhouette that highlights and broadens the shoulders. Finished in a Blue Silk, this double breasted tuxedo is a new take on a classic.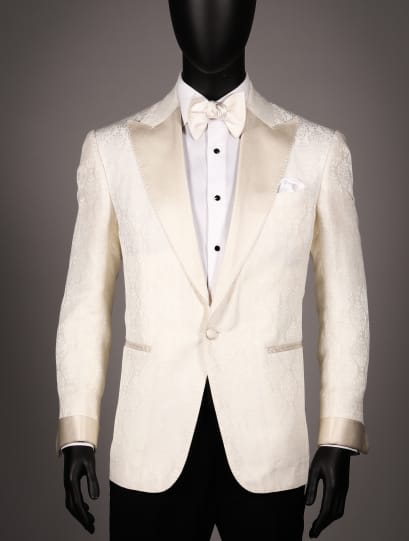 Classic Ivory
Smoking Jacket
Ivory has been synonymous with weddings for as long as we can remember and men have been quick to start incorporating it into their own wedding outfits. This Ivory Jacket is as elegant as you can get for your wedding look.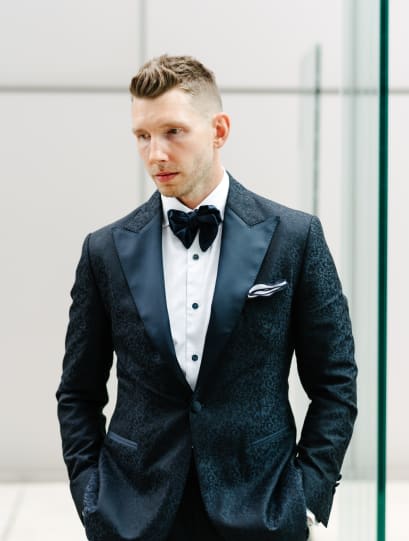 Midnight Navy
Smoking Jacket
A Smoking Jacket has been a popular choice by grooms to wear for their weddings. This Midnight Navy Smoking Jacket features a very subtle jacquard pattern that is visible in evening lightings at the right distance. Paired perfectly with a midnight navy bow tie and a white shirt with blue swarovski crystal studs, this outfit is perfect for a wedding any time of the year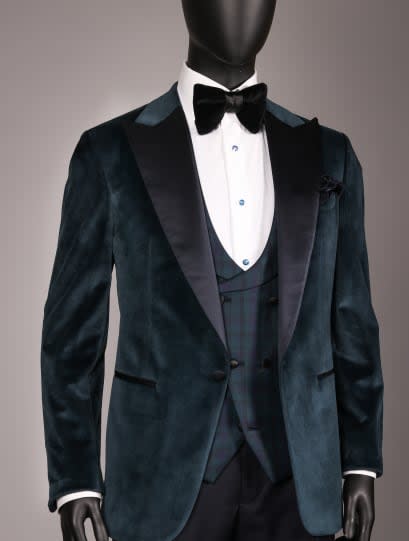 Teal Velvet
Smoking Jacket
Velvet has always been linked to formalwear and it has been a fantastic choice for men to wear during their winter weddings. This outfit features a twist as the velvet jacket is layered with a teal blackwatch plaid vest. The result is a stand out look for a wedding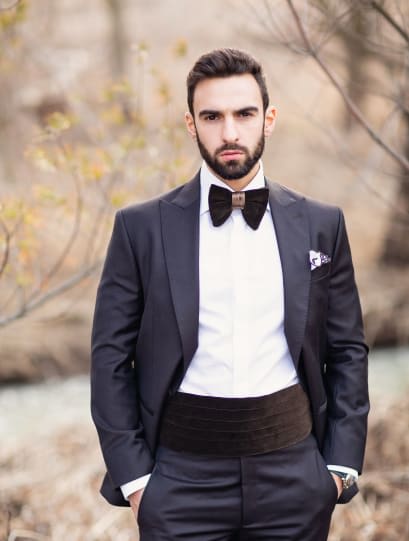 Chocolate Brown
Formal Suit
Men have often opted for outfits that can be worn after their weddings. This formal wedding suit is a twist on traditional black tie attire. Unlike a formal tuxedo, this suit doesn't feature a satin lapel, however it has fabric covered buttons to aid in the formality. Paired with a chocolate brown cummerbund and velvet bow tie, this suit is a great formal look.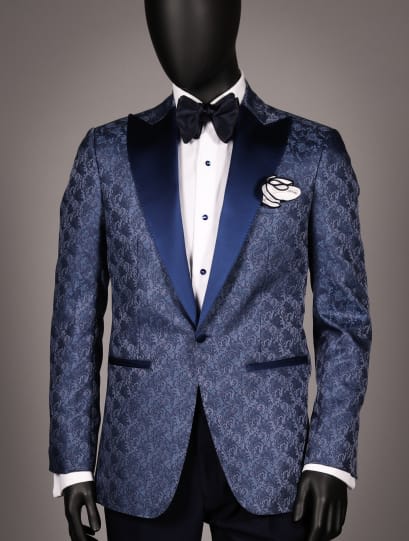 Ice Blue Jacquard
Smoking Jacket
Ice Blue is a fantastic tone to wear for both a summer or a winter event. A lot of men have been opting for the traditional tuxedo for their ceremony and switching outfits like this Ice Blue Jacquard for their reception.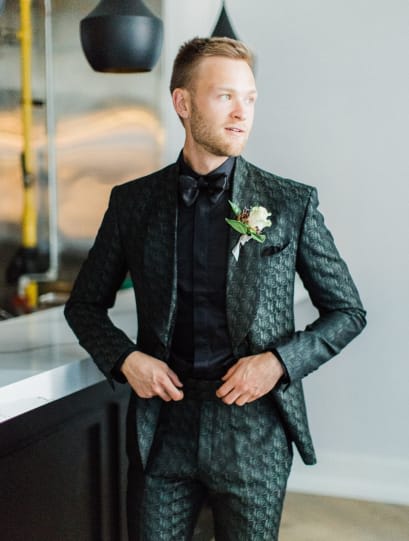 Forest Green
Jacquard Suit
For the fashion forward grooms, a full suit in a formal pattern is a bold statement to wear for their weddings. This geometric patterned forest green suit is subdued by pairing a black shirt and black bowtie for a modern and unique wedding look.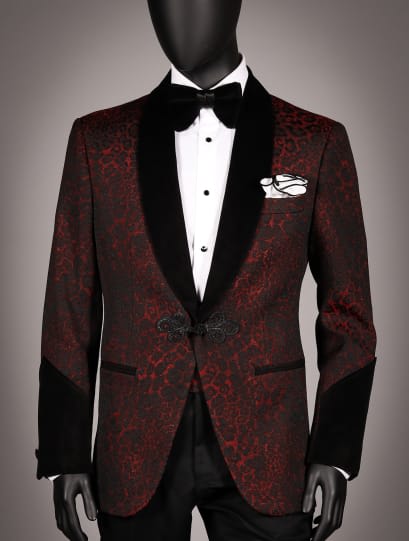 Scarlet Cheetah
Smoking Jacket
For grooms who want to stand out at their weddings, bold smoking jackets are a fantastic option. This Scarlet Smoking Jacket features traditional frogging closure, velvet cocktail cuffs and a velvet shawl lapel for a stand out look.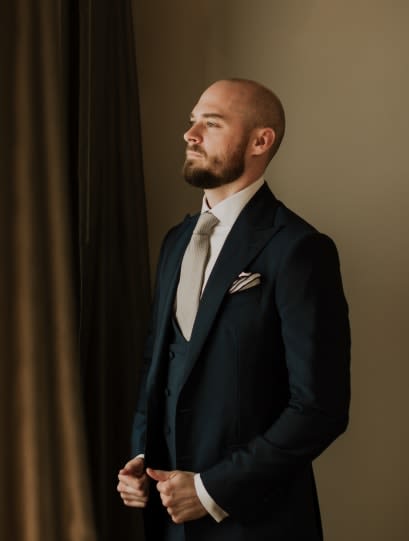 Blue 3 Piece
Formal Suit
A classic look that men have opted for their weddings is a formal blue 3 piece suit. Paired with a white formal shirt and Silver Silk Garza tie, this wedding outfit is sure to stand the test of time and will always remain a classic.