If the essence of an individual is reflected in how he presents himself to the world, professional boxer Sukhdeep Singh Chakria offers us a glimpse into what's at the heart of his success.
Form. Fit. Functional Style.

At King & Bay, we have a particular affinity for professional athletes. We love the challenge of creating clothing that fits them as well as the gear they wear for competition.

As he launches his professional boxing career, Sukhdeep joins Bruce Buffer, Stipe Miocic and Georges St. Pierre, all fight professionals who have chosen King & Bay as their custom clothier.

In close collaboration with Master Clothier Hozefa Hararwala, Sukhdeep has developed a selection of custom suits, as well as a stunning smoking jacket, that truly reflect his personal style. In our garments, Sukhdeep emanates a calm confidence in the commitment to excellence that is at the heart of his quest for a title.

A subtle, yet stunning combination of fabrics, custom details, and fashion-forward design combine to create a look that confidently expresses the same quality and craft that Sukhdeep brings to his sport.

It's Truly the Perfect Balance.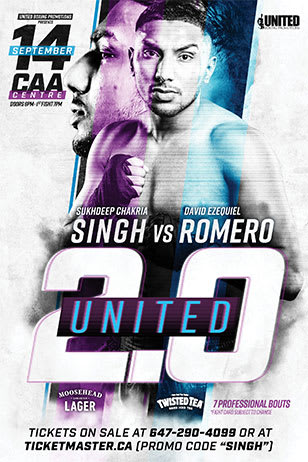 United 2.0 Singh vs Romero

On September 14, 2019, Sukhdeep Singh Chakria will meet Argentinian fighter David Ezequiel Romero in the ring at the CAA Centre in Brampton, Ontario for United 2.0 presented by United Boxing Promotions.
In his march to a title match, Sukhdeep is relentless. Of his career goals, he says "I am hungry. I want to be the best and I will work harder than yesterday to get there. Watch me in the ring, fighting for what I know I can achieve."
We love Sukhdeep's commitment to his craft, just as he loves our commitment to ours. And we'll stand proudly ringside as he takes on Romero at United 2.0
September 14 is Fight Night. See You There. 
---
CLICK ON A THUMBNAIL TO VIEW LARGER IMAGES
---