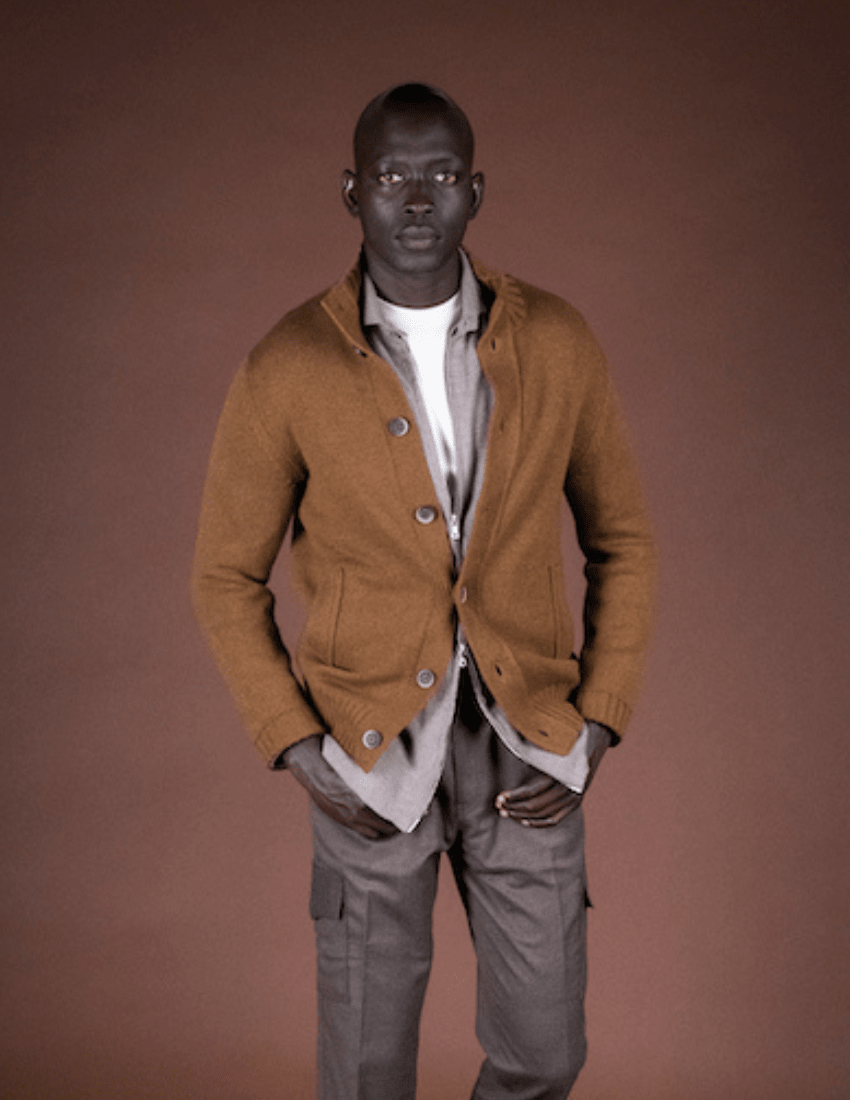 Sweater Weather & Men's Fashion
In several blogs, we talk about the importance of versatile men's garments during the fall and winter seasons. Cardigans are very versatile because they can be dressed up or down and we think they are a men's fashion staple. We're sharing advice about men's cardigans including how to wear them and whether or not to button them up.
How to Wear the Classic Cardigan
The Fit
The proper fit of garments is a critical aspect of custom clothing. Cardigans should fit the way a blazer or jacket would in that there should be enough room through the shoulders and taper down the chest. Your cardigan should widen somewhat throughout your abdomen and fit comfortably, whether you wear it open or closed. For a more polished look, choose a cardigan that fits closer to your body with shoulder seams that don't hang. If you want to achieve a casual, laid back look then you can choose to wear a more oversized, relaxed fitting cardigan.
What to Wear Underneath Cardigans
Cardigans work well as an outer layer or mid layer, depending on the temperature, and can easily be worn over a variety of shirts. For an effortless look, a cardigan over a t-shirt is a great option. For a more elevated look, pair your dress shirt, with or without a tie, underneath your cardigan.
Our Fall Winter 2022 Collection features luxurious cashmere sweaters for good reason - they are comfortable, stylish, and the perfect garment to wear for layered looks. 
Cardigans & Work Wardrobe
If business casual is acceptable for work, then a cardigan is a great option to include in your work wardrobe. For a clean look, wear a lighter base with a darker sweater. To add a touch of sophistication, complete the look with a leather belt and oxfords. Cardigans don't have to compromise your overall polished look - you can still look polished by wearing a button-up cardigan instead of a vest under your suit jacket. For an alternative elevated business casual look, you can wear a blazer and accessorize with a bow tie.
Button Up or Unbutton?
An advantage of cardigans is that they can be worn buttoned up or unbuttoned which allows men to create varying looks with one sweater. An unbuttoned cardigan creates a more casual look and this is a great option to wear when a blazer would look too formal. In contrast, for a more formal and structured look, men can opt to wear the cardigan buttoned up completely. This is also a more professional look that might be required for the workplace. If you choose to wear a tie, you may wish to unbutton the top button so that the tie is exposed and visible.
There are many ways men can wear cardigans to achieve varying looks that are stylish and feel comfortable. Investing in versatile fall and winter garments such as custom cardigans is a great way for men to expand their wardrobes with items that will last longer than one season.