For 25 years, Bruce Buffer has been the man at the centre of the UFC ring and has introduced some of the greatest fighters from every generation.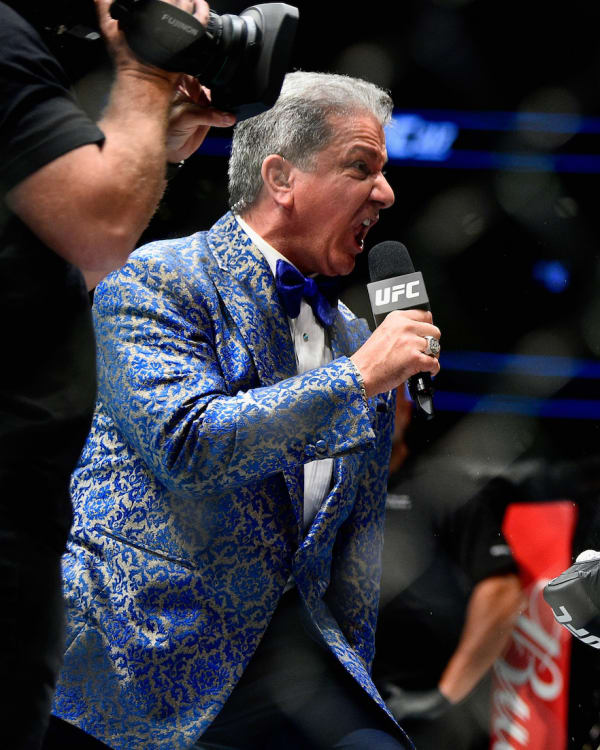 It's Time!
With all eyes in the room and around the world on Bruce, he has to show up with confidence and style, commensurate with the occasion.
For those few, highly intense moments prior to every fight, as he introduces both sides of the octagon, all of the attention is focused on Bruce as he delivers his introductions in his signature 'Veteran Voice of the Octagon'. 
For someone who has been at the top of his game for a quarter of a century, Bruce never fails to present with the same confidence, charisma, stage presence and excitement in both his announcements and his attire. Bruce is considered by many to be a fashion icon. His style and persona bring respect, honour and sophistication to the proceedings of every UFC fight he works.
A lot can happen in 25 years. Fighters come and go, championship belts exchange hands and fashion trends peak and fade. For Bruce, he has had a front row seat to the pinnacle of every fighter's career and has been at the pinnacle of the fashion trends for every decade.
From the exquisite tuxedos and formal suits of the past, to today's custom designed and fitted raw silk jacquard smoking jackets, many UFC fans look forward to what Bruce will wear for each fight as it has become synonymous with the UFC enthusiast's anticipation.
And Bruce is the best dressed guy on stage.
Get Your Limited Edition Bruce Buffer Pocket Round.
The Era of the Silk Jacquard Smoking Jacket Begins
For the past 5 years, Bruce has had a deepening relationship with the Master Clothiers at King & Bay. Bruce has embraced raw silk jacquard smoking jackets in a wide range of colours and patterns from all sides of the spectrum to create a symphony of elevated formalwear to visually communicate to fans the importance of each fight.
Every smoking jacket is designed to parallel the significance, intensity and prestige of the unique fight Bruce will be announcing at. From bold and flamboyant sage and lavender jacquard to sophisticated onyx & silver micro patterns, each design is chosen with purpose. 
By embracing the custom process, Bruce's style has been propelled to an even higher level of appeal.
Fans, the media and the fighters themselves have all followed Bruce's style transitions. Bruce has evolved from being stylish to leading style trends.
We at King & Bay have been honoured to be a part of Bruce Buffer's confident and stylish presentation at UFC fights over the past 25 years and to help make Bruce's fashion ideas a reality.
And Bruce is catapulted to fashion icon status