Corduroy is a comfortable, sophisticated fabric that is versatile and durable. Read on to learn why we think men should include corduroy in their wardrobe and wear it this winter.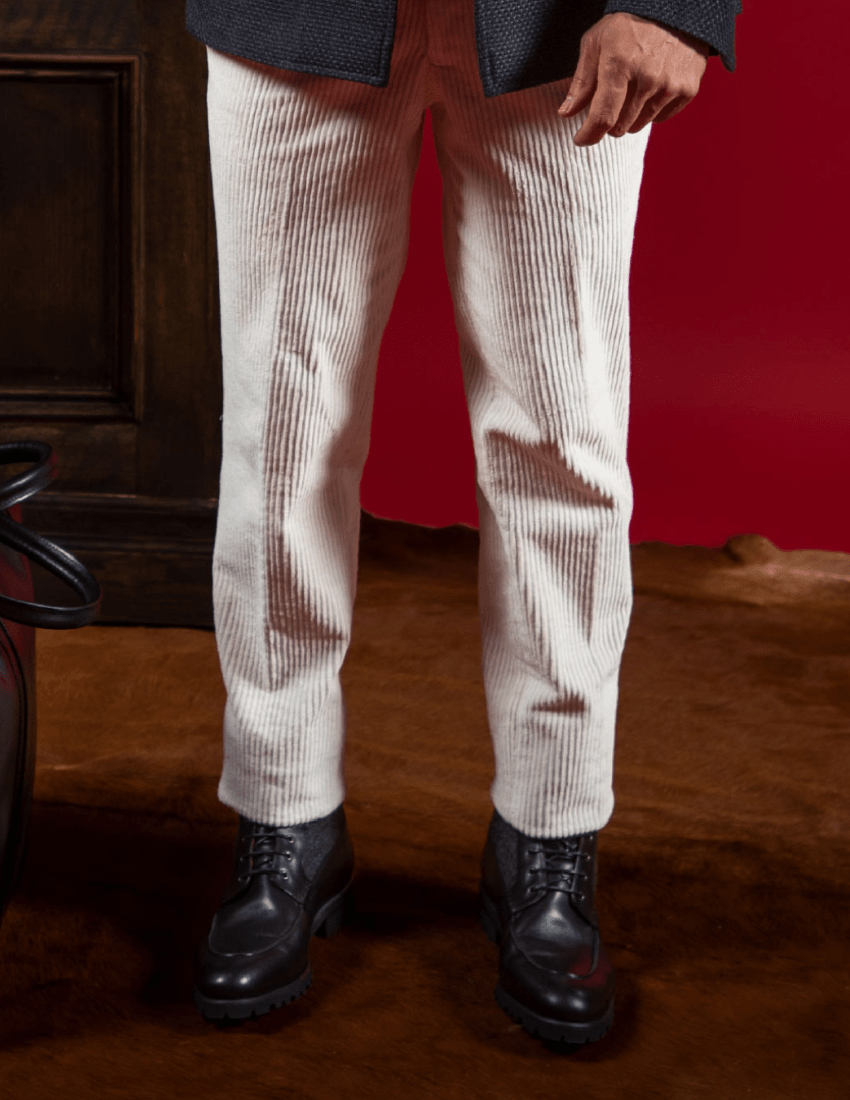 What is Corduroy?
Corduroy consists of raised rows of velveteen cotton created by a process known as tufting, which lends to its unique texture. The fabric is defined by its wale count which refers to the number of ridges that can fit within one inch; a lower wale count means a wider cord. Corduroy is an optimal winter fabric because it's thick, soft, and can keep you warm in cold temperatures. The fabric is also extremely versatile which is why a variety of winter garments are constructed from it.
Corduroy Garments to Wear This Winter
Jackets
Corduroy jackets come in a variety of styles from blazers to overcoats. Layer your corduroy jacket over knitwear such as a cashmere sweater or roll neck sweater. Add a pair of jeans and Chelsea boots for the ideal winter layered look.
Trousers
Corduroy trousers look great when paired with a crewneck sweater and Chelsea boots. For an elevated business casual look, wear your corduroy pants with an unconstructed sport coat with patch pockets. For a business formal look, pair your corduroy trousers with a double breasted blazer.
Shirt
Once the temperature starts dropping, a corduroy shirt is a great garment to wear to achieve a layered look; a fine-wale corduroy shirt can add a touch of texture. Corduroy shirts in navy, burgundy, mustard, or forest green complement this exquisite texture. For a casual look, wear a corduroy overshirt unbuttoned over a white t-shirt along with denim and leather shoes. Dress up your corduroy shirt by wearing it with tailored trousers and loafers.
Blazer
For a business formal look, pair a black corduroy blazer with a white dress shirt, charcoal grey dress pants, and black shoes. For a semi-formal look, wear a brown corduroy blazer with a grey roll neck sweater, chinos, and loafers. Elevate this look by adding accessories such as a leather bag or belt. A corduroy blazer can easily be worn casually by wearing it over a t-shirt with dark blue denim jeans.
Suit
When wearing a corduroy suit for a business formal occasion, a navy blue suit with a white dress shirt, printed tie, and brown lace-ups is an excellent look. For a semi-formal approach, a camel-coloured suit with a grey buttoned down dress shirt would be a great option. Elevate this look by adding a pocket square and tie in complementary colours.
Corduroy has gone in and out of style many times, but this trend from the past has made a comeback in the world of men's fashion. Wear this fabric in the winter for its warmth and versatility, and use our style tips to make a statement when you wear your corduroy garments.