The Mission2Mask initiative is a key pillar at King & Bay in our guiding principles of doing good in our community.
Supportin the fight against COVID-19.
King & Bay Custom Clothing, a Toronto-based bespoke clothier, has responded to the challenges posed by COVID-19 by retooling their business in the form of a new charitable endeavour called Mission2Mask.
This initiative, with the goal of providing non-medical grade face masks to all those in need, has united the company, their individual and corporate clients, and a growing list of sewing volunteers and benefactors.
It was evident early on that masking the public would reduce the spread of COVID-19, and thereby enable a more robust eventual return to business for the entire local economy.
We've joined a great team to support community health.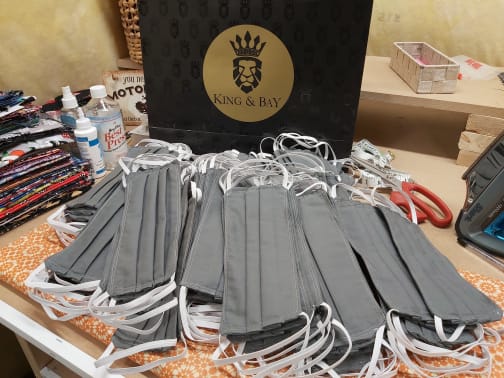 It started with a simple idea...
The effort began on social media, as King & Bay launched the 'Shirt Off Your Back Face Mask Challenge' in late March, challenging their followers and community to sew spare dress shirts into face masks using a DIY instructional video, available in 18 languages.
The resulting masks were then donated to an expanding list of hospitals, retirement communities, and other organizations requesting them.
As more volunteers came onboard, a Shirt Drive donation campaign followed to supply the collective with the materials needed to scale up their efforts.
The team joined forces with other like-minded groups including Stitch4Corona, Ismaili CIVIC and Sewing For Change.
As requests for masks continued to grow significantly, King & Bay took the next step and re-tooled their own in-house production to be able to create masks at a much larger scale.
...And that idea continues to grow.
Today, under the banner of Mission2Mask, King & Bay is reaching out to corporate Canada.
A program of corporate partnerships is now available, via a Buy-1-Give-1 model, whereby companies can source face masks produced by King & Bay for their own employees' safety and peace of mind as they re-enter their workspaces, with each mask purchased funding a second mask to be donated to organizations in need.
CLICK ON A THUMBNAIL TO VIEW LARGER IMAGES